Welding the deal: North Vancouver firm makes the most of AI and robotics
Monte Stewart
July 5, 2023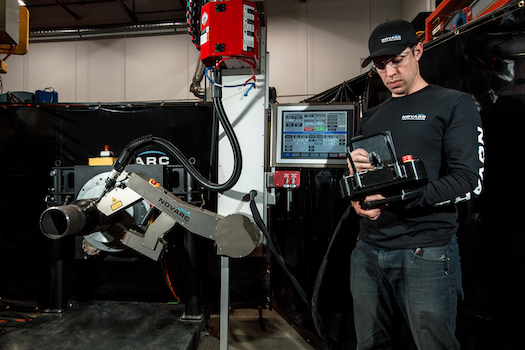 Photo courtesy Novarc Technologies Inc

A Canadian company is expanding its global footprint by combining robotics and AI with a traditional trade occupation.
Welding robotics are not as funky or as flashy as other forms of AI technology, but Novarc Technologies touts its spool welding robot (SWR) as the first of its kind, and it is in high demand. According to CEO Soroush Karimzadeh, the North Vancouver, B.C.-based firm, founded in 2017, has experienced 60-100 percent annual demand growth, even through the COVID-19 pandemic years.
"That's mainly driven by the fact that we can't find enough human welders to take on this work," he told Research Money in a recent interview.
Karimzadeh, an engineer by profession, described a shortage of some 400,000 welders in North America alone. Besides selling the SWR to customers on this continent, Novarc also exports this robot to Australia, the U.K., Ireland, Germany and Saudi Arabia, with hopes to land a Chinese contract soon.
"There's been a lot of effort in the last 50 years to automate [welding], and none of the installed base of robots have that perception and cognition ability of the human welder," said Karimzadeh. "So we think what we're offering can enhance the capability of these industrial robots to [do] a lot like a human can do, but with better consistency, of course, less fatigue, and in a safer way."
The SWR can weld carbon-steel and stainless steel pipes ranging in diameter from about 13 cm to five inches to 1.5 m, and up to 5 cm thick. The pipes are used in a variety of industrial sectors and applications, including oil and gas, shipbuilding, food and beverage, pharmaceuticals, commercial and industrial buildings, heating, ventilation and air-conditioning systems, and water lines.
Robot is a cobot
For all its potential applications, SWR's technology does not eliminate humans from the work. This robot has been dubbed a cobot, collaborating with a human welder who oversees the job and the machinery, to ensure everything runs smoothly.
Novarc contends that the SWR enables less experienced operators to produce higher-quality welds while boosting production. The company says the SWR has increased stainless steel pipe weld productivity 20 percent and carbon-steel pipe weld productivity five percent while drastically reducing error rates in both groups.
Karimzadeh said veteran human welders, whose hands may no longer move as precisely as needed, are also able to extend their careers. AI can reduce the health and safety risks to these highly skilled workers, who must be exposed to the welding torch, extreme heat, cancerous gases and fumes, and bright light.
"[Traditional] welding is difficult on the body, but you also have to maintain very high precision, almost surgical precision, to be able to maintain that weld quality," he said. "Pipe welding is very repetitive as well. So it's very difficult to maintain that precision with human hands and muscles."
In June, Novarc gained financial muscle through a $2-million interest-free loan from Pacific Economic Development Canada. Commonly known as PacifiCan, the federal agency is dedicated to helping British Columbians in the areas of innovation and job creation. Novarc accessed funds through PacifiCan's business scale-up and productivity program, supporting incorporated businesses that have achieved year-over-year growth of at least 20 percent, so they can scale up and produce innovative goods, services, and technologies.
Novarc's robots, AI systems and robotic welding applications serve critically important functions, spurring global economic growth when there is going to be a shortage of skilled-trade workers, said Natural Resources Minister Jonathan Wilkinson, who is also the MP for North Vancouver. He spoke in place of International Development Minister Harjit Sajjan, the minister responsible for PacfiCan, during a recent news conference to announce Novarc's funding at a company warehouse.
Canada can be an economic enabler, says Wilkinson
"This is the kind of technology that can really help [Canada] be an enabler, from an economic perspective, moving forward," said Wilkinson while addressing a small media contingent and several Novarc employees. "The technology, as you know very well, can significantly increase customers' production and productivity while enhancing safety for workers. It means that [Canada's] customers can build more wastewater treatment plants, hydrogen facilities, shipyards and other structures more efficiently and more quickly."
Karimzadeh outlined for Research Money how Novarc will use these federal funds to expand the company's sales and marketing presence in new territories, as well as supporting customers as they are brought on board. Novarc has also received funds from Export Development Canada, he noted, along with the National Research Council of Canada's Industrial Research Assistance Program (IRAP), among other groups.
Novarc's investors include Philadelphia-area investment firm Graham Partners, whose portfolio focuses on tech and healthcare companies, and North Vancouver-based shipbuilder Seaspan, which is also one of the company's customers.
"[Seaspan] invested in our seed round in 2017," said Karimzadeh. "So they helped us develop this [SWR] product and launch it into the marketplace. As a seed partner, they've been absolutely influential to helping us get to this point now."
When it comes to research, Novarc has worked with a number of post-secondary institutions, including the University of British Columbia — where Karimzadeh obtained master of business administration and electrical engineering degrees, as well as a project management certificate — and Germany's Fraunhofer Institute, which has served as the firm's AI research partner. The British Columbia Institute of Technology and Kwantlen University have assisted in welding-related research.
According to PacifiCan, its funding to Novarc enables the company to create more than 50 new jobs, while also increasing the company's revenues. Karimzadeh said the company has approximately 100 employees, including engineers, software developers, welders, welding technicians, assembly technicians, and marketing, finance, and administration personnel.
While helping to offset the welder shortage, Novarc is in an aggressive hiring mode.
"We are always looking for great people to join our team," Karimzadeh said. "We're looking for passionate people that can help us build the infrastructure for the world and be part of this movement."
R$