Looking for innovative solutions in natural places
Leah Geller
June 28, 2023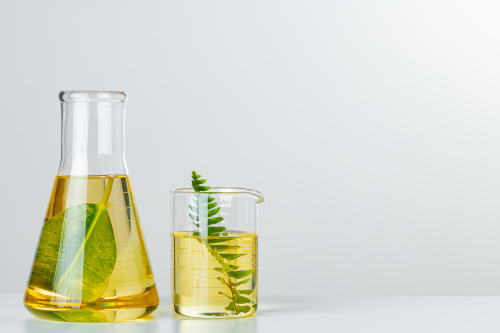 Natural Products Canada (NPC) is helping 10 innovations get closer to market by contributing more than $1 million through its commercialization programs.
The recipients represent a range of sustainable bio-based solutions, developed by start-ups and universities across Canada. They include natural insect repellents and cleaning products, plant-based gelatin and salmon substitutes, and technologies to transform industrial waste into valuable fertilizer and fuel.
"We continue to be inspired by the innovators we work with on a daily basis," NPC CEO Shelley King told Research Money. "Their solutions have the potential to address challenges as diverse as protecting our bee populations, so our farmers can produce enough food, to reducing the amount of material that ends up in our landfills."
NPC's support extends beyond the initial research aspects of these products, she added. "Our commercialization programs address the types of challenges these early-stage bio-based technologies face. They include validating their technologies at industrial scale, adding specialists to their teams, and addressing gaps in their business plans."
NPC's Proof of Concept Program supports trials to demonstrate commercial potential, providing up $250,000 to innovators. The latest round of recipients are Farment BioSolutions, Nature ReCombined Sciences, Natures Crops International, NULIFE GreenTech (Saskatchewan) and researchers at University of Alberta.
The Access to Talent Program helps companies hire an experienced team member, with funding up to $75,000, helping New School Foods hire a specialist in food materials science.
And the Fast-Track to Financing Program supports the cost of hiring an expert to build a better commercialization or business plan, to a maximum of $25,000. Recipients this round are AtlanTick Repellent Products, InnuScience Group, Sesh Products and Phytokraft Environmental Solutions.
NPC's commercialization programs are supported by the Government of Canada's Strategic Innovation Fund, providing up to 40 percent of total project costs for up to 18 months. Each program is competitive, with applicants required to provide a case for their innovation and the specific challenge NPC program funds will address.
Along with potential funding, applicants receive advice and guidance from NPC, ensuring they will spend their time and money wisely.
"NPC uses many tools to advance promising innovations," said King. "We often hear from companies that their project plans are much more strategic and impactful because of the insights the team provides along the way. Our engagement with the applicants often fosters opportunities in other areas of NPC's service portfolio, such as introductions to strategic partners or invitations to participate in key events."
Helping our food supply bee protected
Among the priorities to be addressed by these firms is ensuring a future for the humblest but most important participants in our agricultural system — pollinating insects.
"We're losing close to half our beehives to disease," said Guan Lim, CEO of Vancouver-based Nature Recombined Sciences (NRCS). "This is a major food security issue, since 70 percent of the food we eat is pollinated by bees."
His goal is to help the beekeepers, offering them safer and more effective ways to deal with the diseases and pollutants that threaten their colonies. Existing treatments, such as antibiotics and synthetic chemicals, can cause dangerous antimicrobial resistance and leave toxic residues.
Last year, NPC provided Nature Recombined Sciences with $6,400 through their Fast Track to Financing Program, helping them conduct market research and plan out their commercialization journey.
The company is now at the stage of testing and commercializing two products based on a natural plant extract. One helps prevent and destroy foulbrood bacteria, which infect beehives. The other fights against varroa mites, which attack and feed on honeybees.
The team received $250,000 from the NPC Proof of Concept Program, allowing them to replicate real-world scenarios in collaboration with Canada's beekeepers. The data they collect will also help finance the regulatory approval process for these products. If successful, Nature Recombined Sciences hopes to launch in Canada within the year, and then export to North American and global markets soon after.
From French fries to jet fuel
NPC is also supporting efforts to turn waste products into valuable resources, and keep this material from contaminating the environment.
"Wet industrial waste, like the kind you get at a French-fry factory, doesn't have an environment-friendly home," said Brock Eidem, CEO and co-founder of Saskatchew-based NULIFE GreenTech. "It usually goes to landfill, where it releases methane, one of the worst greenhouse gases."
On the lookout for new technologies, the serial entrepreneur discovered hydrothermal liquefaction (HTL) while travelling in India in 2016. HTL converts wet biomass into crude-like oil, which can then be sold for industrial heating, or for refining into renewable diesel, gasoline, or jet fuel.
His company built its own HTL processor, then patented the design. They fed their reactor various types of wet industrial waste, including garbage from fast-food outlets, which successfully became viable oil. Today, NULIFE has a pilot plant that can transform a tonne of biomass into a full barrel of this oil per day.
NPC's Proof of Concept Program is providing NULIFE with $250,000 to build and staff an advanced pilot plant, so the company can process four wet tonnes of biomass into three barrels of crude oil per day. The new plant is expected to be completed this summer and operating by fall 2023.
According to Eidem, this NPC funding will also validate the economics of the scale-up. "We want to see how much the plant costs to operate, its reliability, and how efficiently it can convert the biomass into crude oil."
Bringing a sea change to fish substitutes
"Alternative protein products need to appeal to an audience that reaches beyond vegans and vegetarians," said Chris Bryson, Founder and CEO of Toronto-based New School Foods.
As it turns out, his company's plant-based salmon filet has already gained the attention of media outlets around the world, including CNBC, Scientific American, and the British newspaper Metro. His scalable platform produces whole-cut meat alternatives, including salmon filets, attracting millions in funding from investors and granting agencies.
"Our product is different, in that it's built to look, cook, taste and flake like real salmon — and has the same nutritional profile," explains Bryson. "It transitions from raw to cooked, and replicates salmon muscle fibres and connective tissue to create the same texture and mouthfeel."
NPC's Access to Talent Program is contributing $75,000 to New School Foods, so its lead food materials scientist can continue to improve these plant-based alternative meat products. New School Foods is also working closely with top North American chefs to perfect the flavour and texture of their plant-based salmon filet before venturing into grocery stores. Later this year, the company will unveil the salmon alternative in several high-end restaurants, as a way to drum up excitement among a broad range of consumers.
Ticked off with toxic sprays
Permethrin and DEET are the main ingredients found in insect and tick repellents in Canada. Both are synthetic, toxic, persistent and damaging to the environment. Health Canada has prohibited the use of permethrin directly on the skin or to spray on clothing.
Nova Scotia's AtlanTick Repellent Products is working to replace DEET and permethrin products with natural repellents that are free from harmful chemicals. One of their proprietary tick pesticides, Tick Attack, has already been approved by Health Canada, and is available online and at retail centres.
The company has three more tick pesticides in development — a ground treatment, a fabric spray, and an impregnated-fabric treatment. NPC's Fast Track to Financing Program is providing AtlanTick with $18,000 to support the journey through the approval process for the novel pesticides.
"Products that come in close contact with humans require strict regulatory controls," said Nancy Thompson, AtlanTick's COO and Product Development Lead. "NPC is helping us ensure our products are safe and effective, and meet all the regulatory requirements."
R$