Taking a level look at vertical farming
Elsie Ross
June 21, 2023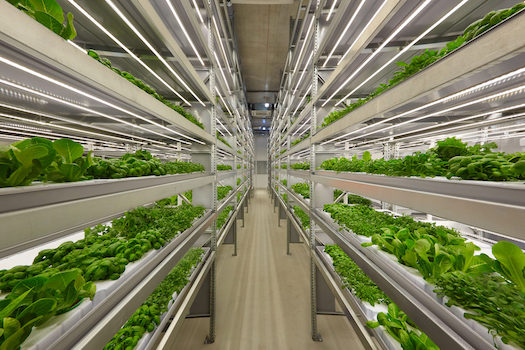 As climate change reduces arable land, countries increasingly are looking to address food security with vertical farming, an innovative form of indoor agriculture, in which production is stacked in multiple layers in tall greenhouse-like environments.
Despite the promise of this approach, it has also been subject to a lot of hype, according to a recent discussion at the annual Alberta Innovates Inventures event. Panel members described an adjustment period for this agriculture technology, following massive investments in the sector and the failure of several large vertical farming operations.
"We need to be honest about where it works, how it works, and how it's part of a more sustainable food system," said Henry Gordon-Smith, founder and CEO of Agritecture, an urban agriculture consultancy based in New York. "We're not quite there yet."
And in time, vertical farming is likely to change quite a bit, added David Kessler, chief science officer, Agrify, a Massachusetts-based tech company that provides turnkey modular units to controlled agriculture operators, mainly in the cannabis sector.
"I think they're going to have to be reliant on renewable energy sources to be sustainable," he said, adding that it also makes sense to locate these operations in urban settings, since they would not be affected by the lack of arable land but could be close to the concentrated populations they feed. "It's not that the food production will just replace all typical food production in the future. It is a piece of revamping the food production system we have now."
According to Gordon-Smith, vertical farming operations can be located closer to major markets than traditional farms, which advocates tout as a means of reducing the carbon footprint of these food products. His company analyzes such claims, producing free "anti-greenwashing" marketing guidelines. For example, if a vertical farm in New York City might eliminate the carbon footprint of food that would otherwise be transported from California, but if this facility is powered by non-renewable sources, the total carbon footprint could actually be nine times higher than that of a typical field farm in California — something operators fail to mention.
And while vertical farming employs recirculated water, reducing overall water usage by as much as 95 percent, the actual savings could be less impressive. The panel heard about an Agritecture census of controlled American agriculture operators, which found half do not even measure their water use.
Another measure of vertical farming's sustainability is the embodied energy of its required equipment and construction materials, which might be as much as 25 percent of its carbon footprint.
"When we build that, we need to make sure that they're going to be successful, because that's a significant part of the carbon footprint," said Gordon-Smith. "And in some cases, these farms can't deliver profitability and then we have equipment that's wasted."
However, vertical farming does employ far less fertilizer, since a lot of the product used in traditional field agriculture is over-applied, said Kessler.
"When you go into a controlled environmental system, especially with recirculating water, you're controlling that nutrient condition much more closely, you're using a significantly less amount and that is a fact," he said. "With that style of cultivation, you can do better for the environment."
In the long term, Kessler predicted, as vertical farming evolves in Canada, these facilities will look quite different from how they look now, relying on more efficient structures and lighting. "We're developing new materials [such as polymers] to use in vertical farming, whether it's the structural elements that hold the vertical farms, or the glazing elements in greenhouses."
More specifically, he added, as commercial LED technology has improved and become much more cost effective, this progress can make its way into vertical agriculture, making use of the most effective spectrum of light. "And because there are some areas with very low cost electricity and remote populations, I think it has a really high potential to make an impactful vertical farm."
Nevertheless, he insisted, vertical farms also will have to rely on renewable energy to become sustainable. And while renewable energies are coming down in price, "we're still nowhere near a point where they can be utilized sustainably for an ag business like a vertical farm. Eventually, we will phase out fossil fuels and we will move to more renewable resources, and at that point we'll see if the economics will change but it still might not be enough to make that carbon offset."
Above all, vertical farming is about more than growing food, Gordon-Smith argued. It aspires to use fewer resources to grow a higher quality of food than contemporary agriculture can offer. He suggested that projects should therefore be regarded holistically. If, for example, a modular vertical garden in the far north has a higher carbon footprint than bringing in frozen food from southern farms, there is still a case for raising local food in this way.
"When you look at the nutrition aspects of sustainability, through a sustainability [social, health, economic and environmental] lens it starts to look okay, like having fresh product for our staff is important," he concluded. "In some cases, sustainability is a little bit of picking and choosing — it's like what matters to you from sustainability and what is your priority because then you can make the decision about whether you want to emit more carbon to achieve your goal or not."
R$