Canada joining innovation "commonwealth"
Tim Lougheed
June 14, 2023
George Freeman, the UK Minister for Science, Innovation, and Technology, was in Ottawa last week to sign a memorandum of cooperation (MOC) with Canada, one of four countries he is visiting to form a multinational collaboration dedicated to establishing science as a "superpower".
"The UK and Canada are natural partners, with shared cultural, economic and historical ties that stretch back centuries and a strong recent history of collaboration on science and innovation across a range of key sectors from agri-tech to genomics and space," said Freeman, in a prepared statement. "In the global race for science and technology investment, and as we turn towards innovation in order to tackle urgent global challenges, the UK and Canada share deep values and interests in harnessing science for global good."
The MOC, co-signed by François-Philippe Champagne, Canada's Minister of Innovation, Science and Industry, creates a partnership supported by a $32 million jointly administered fund, strengthening the industrial and innovation capabilities outlined in the federal Biomanufacturing and Life Sciences Strategy. An accompanying joint statement also committed the two countries to combining their efforts in quantum technologies, including developing markets and supply chains for the various products in this sector.
"We will continue to work together to foster greater collaboration in science and research to shape the economy of the future," stated Champagne, referring to the possibility of extending this partnership to include areas such as artificial intelligence, biosecurity, international cooperation in space, and polar research.
After the signing ceremony, which took place at Earnscliffe manor, the official residence of the British High Commissioner to Canada, Research Money was pleased to join the Minister and British High Commissioner to Canada Susannah Goshko for a private luncheon. The event included five Ottawa-based entrepreneurs, who shared their insights and experience of Canada's innovation policy, as well as the prospects for extending their operations into the British economy.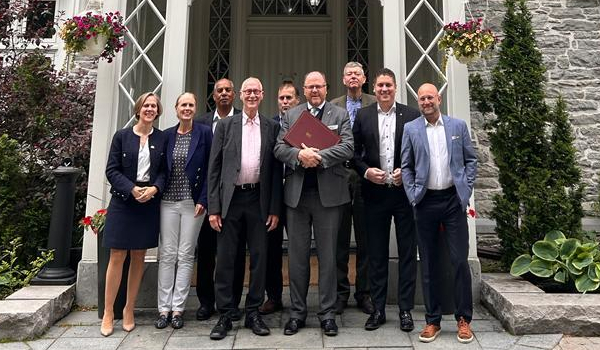 Gathered at Earnscliffe in Ottawa (l-r): Susannah Goshko, British High Commissioner to Canada; Alex Johnston, Vice-Chair, Board of Directors, 360 Concussion Care; Dane Bedward, Chairman of the Board of Directors, Spiderwort Inc.; Jeffrey Crelinsten, Publisher, Research Money; Michel Paquet, CEO & Founder, Aetonix; George Freeman, UK Minister for Science, Innovation, and Technology; Tim Lougheed, Managing Editor, Research Money; Bradley Crepeau, CEO, Foodcycler; Jon Lomow, CEO & Co-Founder, Fieldless
Later that day, Freeman took part in a public discussion with Eric Meslin, President of the Council of Canadian Academies. There the Minister compared the recently established Innovate UK — an arm of the major funding body UK Research and Innovation — with the forthcoming Canada Innovation Corporation. He suggested the two organizations have both been formed around the same three pillars: discovery, commercialization, and regulation.
Although Freeman did not equate scientific discovery with innovation, he insisted that science must lay the foundation for developments that have a major impact on all aspects of human life. It is a capability he described as a superpower, which he credited for such major historical milestones as the Enlightenment and the displacement of monarchies by elected governments.
He also expressed his desire for the UK to harness that potential along with other countries sharing common strengths and interests in key scientific sectors: Canada, Israel, Switzerland, and Japan. This emergent "commonwealth" could likewise pool its resources around the second pillar, financing enterprises in these sectors and enabling them to scale up to become globally competitive. As they do so, the social and economic impact of these businesses will be more clearly felt, which will create the need for the third pillar, managing that impact through carefully designed regulations.
"We call it the guardrails of tech for good," explained Freeman, "and I can't think of another country that can match Canada's commitment to that."
Meslin noted that good scientific ideas are common, but what is often lacking are bureaucratic or financial tools to allow those ideas to take shape as practical innovations.
"You've seen so many different ways in which the policy is unable to advance," he said. "Even when the ideas are good, even when the evidence is compelling, when the arguments are spectacular, when the data is available, and yet, it still doesn't happen."
Freeman laid much of the blame for this problem on academic and government systems that place unfair burdens on talented individuals.
"I think we're treating our young researchers like a commodity," he insisted, outlining how, at a vulnerable stage in their personal and professional lives, these individuals find themselves working far too much with far too little financial or administrative support for their research. For him, the tragedy of their situation is compounded by the fact that in contrast to researchers of previous generations, who were far more focused on their academic careers, many of these same young researchers are strongly motivated to use their talent to make the world a better place.
"Certainly more than half of the young scientists I know intend to go into applying their findings commercially — not because they want to leave science, but because they want to apply it," he observed.
He offered this ready cohort of researchers as the rationale for enhancing incentives to prospective industrial partners, who could share the fruits of these ambitions. In this respect, he also praised Canada for the way in which its public pension funds have been investing in new technologies, something he would like to see happen in the UK.
"If we get the regulatory issues right, the investors will come in behind that," he concluded.
R$