Quantum strategy comes at a critical moment
Mark Lowey
February 8, 2023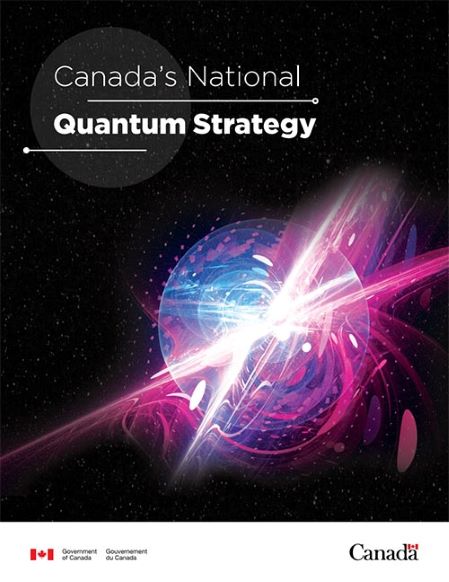 Canada's new $360-million National Quantum Strategy is well designed, but needs to be implemented quickly and collaboratively to leverage a modest federal investment, compared with other countries, say experts in the quantum sector.
"I'm encouraged by how coherent the strategy is," Dr. Stephanie Simmons, PhD, co-chair of the independent body advising the federal government on the strategy, told Research Money. "The focus has to be about delivering on that quickly."
Simmons, associate professor of physics and Canada Research Chair in Silicon Quantum Technologies at Simon Fraser University, added the government knows quantum is a "fast-moving space" internationally, and that Canada requires a significant mobilization of talent and resources.
The other co-chair of the Quantum Advisory Council is physics professor Dr. Raymond Laflamme, PhD, Canada Research Chair in Quantum Computing and founding director of the Institute for Quantum Computing at the University of Waterloo.
Nipun Vats, assistant deputy minister, science and research, at Innovation, Science and Economic Development Canada (ISED), told last month's Quantum Days conference the federal secretariat responsible for implementing the strategy is already staffed with people knowledgeable in quantum. Their top priority is launching a consultative process, to produce "roadmaps" with detailed objectives, milestones, and actions required of government, academia, and industry to realize mission goals.
The government says it will use the roadmaps to inform future quantum investments, beyond the initial $360 million over seven years.
"The way the National Quantum Strategy was developed was very consultative and inclusive. It's well thought out," physics professor Dr. Barry Sanders, PhD, and director of the Institute for Quantum Science and Technology at the University of Calgary, said to Research Money.
The government is taking a new approach with this strategy, by allocating the $360 million to supporting agencies and organizations, such as the National Research Council, the Natural Sciences and Engineering Research Council of Canada, and non-profit Mitacs. "The money is going to mature entities who are getting additional funding specifically for quantum," said Sanders.
Quantum scientists and entrepreneurs told Research Money that this approach will save time in getting the strategy implemented and money flowing, rather than having to create a new organization, such as with the Global Innovation Clusters (previously called "superclusters") which took much longer than expected to finalize agreements with ISED and become operational.
Strategy is built on three main "pillars" and missions
The rollout of the National Quantum Strategy comes nearly two years after the Liberal government pledged $360 million for it in the April 2021 budget. The strategy is driven by three missions in key quantum areas:
Computing hardware and software – to make Canada a world leader in the continued development, deployment and use of these technologies;
Communications – to equip Canada with a national secure quantum communications network and post-quantum cryptography capabilities;
Sensors – to support Canadian developers and early adopters of new quantum sensing technologies.
Those three missions will be advanced through investments in three foundational pillars in the strategy, each with their own funding:
Research — $141 million to support basic and applied research to realize new solutions and new innovations;
The Quantum Research and Development Initiative, a new $9-million program administered by the National Research Council (NRC), will bring government, academic and industrial partners together to work on advancing quantum technologies under the strategy's three missions.
It is anticipated that under the "Research" pillar, the Social Sciences and Humanities Research Council will fund research on the societal and ethical considerations of quantum technologies.
Talent — $45 million to develop and retain quantum expertise and talent in Canada, as well as attract experts from within Canada and around the world, to build the quantum sector;
Vancouver-headquartered Mitacs will receive $40 million to support the attraction, retention, training, and employment of highly qualified personnel, through internships for graduate students and post-doctoral researchers.
"We have made a promise to deliver over 5,000 internships over the coming six years directly related to the areas of quantum technology identified in the strategy," John Hepburn, CEO and scientific director at Mitacs, said during last month's Quantum Days conference, hosted by Deep Tech Canada.
To help develop the talent pipeline, the Natural Sciences and Engineering Research of Canada (NSERC) is investing $137.9 million, through its Alliance grants and Collaborative Research and Training Experience grants — specifically in the quantum area.
"The talent flow is the key piece," especially connecting this talent to industry, Dr. Alejandro Adem, PhD, president of NSERC, said during Quantum Days.
Commercialization — $169 million to translate research into scalable commercial products and services that will benefit Canadians, domestic industries, and the world.
The NRC is receiving $50 million over seven years, to expand its Internet of Things: Quantum Sensors Challenge program and launch its Applied Quantum Computing Challenge, which will bring NRC scientists together with academics and businesses, developing new hardware, algorithms, and sensors.
Ottawa also will make available $70 million in financing, for quantum firms through the federal network of regional economic development agencies. Global Innovation Clusters are getting $14 million, to carry out activities as part of the strategy's "Commercialization" pillar.
The government's flagship procurement program, Innovation Solutions Canada (ISC), is also receiving $35 million over seven years, to help innovative Canadian SMEs grow, scale up, develop intellectual property, export, and create high-value jobs in the quantum sector.
Launched in 2017, the ISC has fallen far short of its initial goal, 20 federal departments spending a combined total of at least $100 million a year, on pre-commercial technologies from Canadian companies. Nonetheless, ISC has already awarded four quantum-related contracts, valued at a total $2.1 million, to test quantum sensing, communications, and computing solutions developed by Xanadu Quantum Technologies Inc. (Toronto), CogniFrame Inc. (North York), Photon etc. Inc. (Montreal), and Zero Point Cryogenics Inc. (Edmonton).
Government procurement, partnerships vital
According to Dr. John Davis, PhD, physics professor at the University of Alberta, the most important aspect in commercializing Canadian quantum technologies is public procurement, where government as the first buyer helps test, prove, and de-risk the products.
"Government procurement should not be stifled, it should be made smoother," he told Research Money.
Government could offer an incentive to companies to buy Canadian quantum technologies by, for example, contributing half the cost of procurement or providing a bond to insure the project, Davis suggested.
ISED's Vats said an important focus of the National Quantum Strategy will be government procurement, including working with Canadian industries on procurement, to help create the demand pull for homegrown quantum technologies.
Sanders at UCalgary said universities also can help incentivize the demand pull. This September, UCalgary will launch the world's first professional Master's degree in Applied Quantum Computing, which will include the technical but also the business aspects of quantum.
"The more we funnel our talent into industry and government," he said, "the more they'll start to explore and make use of things, develop use cases, see how they work in pilot projects."
When it comes to evaluating the strategy, Vats indicated it will be measured against the specific objectives, milestones, and actions, detailed in the forthcoming roadmaps. In addition, ISED will track the performance of individual agencies and organizations, such as Mitacs, and their programs related to the strategy.
The biggest challenge will likely be building the partnerships — a core piece of the strategy — between different academic institutions and the private sector, as well as national and international partnerships, says physics professor Dr. Andrea Damascelli, PhD, scientific director of the Quantum Matter Institute at the University of British Columbia.
"I think it's a challenge that's important to face and tackle at this point in time," he said in an interview.
UBC's Quantum Matter Institute, which focuses on developing advanced materials for quantum applications, is helping to address that challenge through the Quantum Colaboratory, a partnership between UBC, the University of Waterloo and Université de Sherbrooke.
The Quantum Colab provides all interested users — academics, non-profits and industries — with access to shared infrastructure, streamlined training, and an expert team of specialized technical staff.
Damascelli said it is likely that Alberta, which has stepped up its efforts in quantum, will be joining the Quantum Colab.
Is the funding for the strategy sufficient?
During the Quantum Days online conference, Research Money asked whether the strategy's $360 million over seven years — some $51 million per year — will be enough to make Canada a global competitor.
In comparison, the analysis firm GlobalData pegged the U.S. government commitment to quantum projects at US$3 billion, including US$1.2-billion over four years, for the National Quantum Initiative. China has invested more than $12 billion, just to develop quantum computers.
The federal consultation report, which led to Canada's National Quantum Strategy, warned "The overall amount of NQS funding may be insufficient to achieve our goals, especially as other countries have promised to invest more."
But ISED's Vats identified Canada's quantum advantage: "the country has been a leader in training the talent that can make this ecosystem go. We have to keep investing in that talent generation and development if we're going to retain it."
Some quantum technologies will involve applications with national security concerns, where Canada doesn't want to forego Canadian sovereignty or depend on other nations for quantum products and standards, he said.
"We have the potential to be players, and we have the potential to shape how these technologies evolve in a way that's actually to our benefit and to the broader benefit," Vats said.
Geneviève Tanguay, vice-president, emerging technologies at NRC, said quantum technologies can be applied in many areas where Canada has inherent strengths, such as energy and agriculture.
Canada's quantum sector needs to demonstrate that it can coordinate and align its work, to leverage whatever funding is available, she said. "Quantum is definitely a place where Canada can make a difference, even if we're talking about other countries having deeper pockets."
Damascelli at UBC described the $360 million for the strategy as "a good start but just a start." In addition to further investment, he added, Canada needs to sustain the effort to build its quantum ecosystem, beyond the strategy's seven years of funding.
"Seven years is not enough for a technology which relies on fundamental research that is still at a very early stage," Damascelli said. "The key is if Canada can sustain this effort for a couple of decades, you would definitely see the benefit [and] the global leadership."
Just 10 days after announcing the National Quantum Strategy, Ottawa announced a $40-million investment, through the Strategic Innovation Fund (SIF), in quantum computing company Xanadu Quantum Technologies.
In March 2021, the SIF provided a $40-million contribution to quantum computing firm D-Wave Systems Inc. in Burnaby, B.C. Also, the Business Development Bank of Canada launched its $200-million Deep Tech Venture Fund with investments in Xanadu and computer hardware manufacturer Nord Quantique in Sherbrooke in 2022.
Federal and provincial governments stepping up quantum investment
Canada has invested in quantum science over many decades, including more than $1 billion between 2012 and 2022, according to the federal government. In addition, private investors and philanthropists have committed more than $1 billion toward quantum science, innovation, and companies since 2002.
As for investment by the provinces:
Much of the historical funding for quantum has been on research development and grassroots building of talent and the ecosystem, said Simmons, the National Quantum Strategy Advisory Council co-chair.
What is needed now is to shift from a push to a pull mentality, she said, "where we stand up as industry and deliberately train the ecosystem needed to all benefit from it."
Simmons is also an entrepreneur, chief quantum officer at Photonic Inc., a startup spun off from her research at Simon Fraser University. The Coquitlam, B.C. company is developing silicon-based quantum technologies.
She is "100-per-cent" convinced Canada can be a global competitor in quantum technologies, she insisted, "because Canada invested early and big on this."
Canada already is recognized internationally for its quantum research and talent, she noted, along with a "disproportionately large and deep collection of experts from a global perspective," and a similarly large number of quantum startups for the country's size.
"Canada is really well-positioned," Simmons concluded. "We can compete at the very highest levels, and I have every confidence that it's absolutely possible."
R$