New innovation agency's success hinges on its private sector leadership, experts say
Mark Lowey
February 22, 2023
NOTE: See also accompanying story "Questions and answers about Canada's new innovation agency"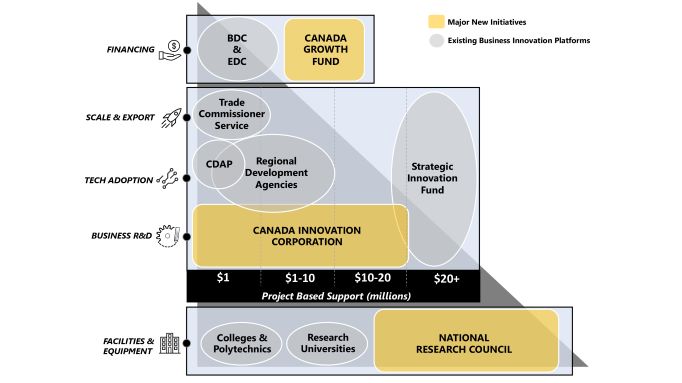 According to policy and innovation experts, the success of the Canada Innovation Corporation (CIC) will depend on private sector leaders the federal government hires to run this new agency.
The CEO and chair of the board need to be experienced business people, who know what is needed to grow a business based on innovation, and who can defend the CIC from political influence, said Dr. Dan Breznitz, PhD, co-director of the Innovation Policy Lab at the University of Toronto's Munk School of Global Affairs & Public Policy.
"When the prime minister or a minister calls, you need a CEO who can say, 'That's very interesting but that's not what my corporation does, and with all due respect, this is not something that we will do'," he told Research Money.
Breznitz, as a visiting economist at the Department of Finance Canada until the end of last year, helped a team led by Finance Canada and Innovation, Science and Industry Canada design the new innovation agency.
Chrystia Freeland and François-Philippe Champagne, the respective ministers of those two departments, jointly announced the CIC on February 16. They released a blueprint for the new agency, which will have an initial budget of $2.6 billion over four years.
The CIC's leadership is key to the agency having any chance of success, said the Council of Canadian Innovators.
"If the CEO and board members are pulled from the ecosystem of bloated innovation intermediaries, we fear that the CIC will ultimately fall back on the same failed approaches that have left Canada at the bottom of the OECD innovation ranks," Benjamin Bergen, president of the Council of Canadian Innovators said in a statement.
The CIC's senior leadership "needs to have understanding of the [innovation] ecosystem, including academia and business — and not just SMEs and startups and VCs, but also big business," Robert Asselin, senior vice-president of the Business Council of Canada, said in an interview.
As part of a technical briefing for media, government officials described how the search for a CEO and chair of the board had already begun, with both positions expected be filled this spring. More details on the establishment, mandate, and governance of the CIC will be introduced in enabling legislation for the corporation, to be introduced this year.
Breznitz said another key factor in whether the CIC will succeed is whether Canadian businesses actually engage with the corporation. Canada's poor innovation and productivity performance is due to lack of R&D spending by businesses, which "falls squarely on the shoulders of CEOs and the managers of those companies."
"Business has to recognize that they have a duty to the Canadian people, and that is to innovate and engage with new knowledge," Breznitz said. "If Canadian businesses will not change their behaviour, the CIC and our future prosperity will both fail."
NRC-IRAP will join the CIC
The CIC is one of two government bodies with an innovation focus promised in the 2022 budget. The other is the Canada Growth Fund (CGF), a $15-billion plan to encourage companies to commercialize and deploy technologies that reduce greenhouse gas emissions.
The new Canada Innovation Corporation will be made operational as quickly as possible, using the "strong foundation" of the National Research Council's successful 76-year-old Industrial Research Assistance Program (IRAP), government officials said in the briefing.
IRAP, along with its annual budget (which is included in CIC's initial $2.6 billion budget), will be transitioned into the CIC, a process expected to take 18 to 24 months. The process will make IRAP's current team — including the program's more than 270 industrial technology advisors (ITAs) — the core of the CIC's new business development team.
Each year, ITAs work with more than 8,000 businesses — currently startups and SMEs — by providing advisory services, funding for projects, and international connections to global value chains.
With IRAP as part of the CIC, government officials said, duplication of innovation programs and services can be avoided, while building an expanded, integrated platform of support, service, and strategy across all technologies, industries and companies of all sizes.
Dr. David Wolfe, PhD, professor of political science at the University of Toronto and co-director of the Munk School's Innovation Policy Lab, said many studies show that when you combine the kind of advisory services offered by IRAP with other program support, companies perform better than if they receive only government funding or a subsidy such as an R&D tax credit.
"They're using the existing base of IRAP. But they're going to increase the funding, go beyond the scale of the firms that IRAP serves, and go beyond the amount of funding given to individual firms," Wolfe said in an interview.
Asselin, however, noted that despite its success, IRAP's program and services have not made a huge impact overall in the economy. "They need to scale it up and bring this new agency a vision that we've not seen yet," he said.
"Not just another funding agency," government says
"The CIC will not be just another funding agency," says the agency's blueprint. "It will be an outcome-driven organization with a clear and focused mandate to help Canadian businesses across all sectors and regions become more innovative and productive."
The CIC will be "operationally independent" of government, although the innovation minister will appoint the CIC's board of directors and, in consultation with the finance minister, the new agency's CEO.
"The CIC will quickly develop programs that are responsive to business needs, and deliver funding within weeks to minimize clients' transaction and administrative costs," says the agency's blueprint.
The CIC's new approach to innovation will include the ability to experiment continuously with novel programs, develop new initiatives, scale up successful initiatives, and terminate unsuccessful initiatives, according to the agency's blueprint.
Asselin counted as positive the CIC's focus on supporting applied research projects and experimental development projects, which he noted is more like the successful DARPA (Defense Advanced Research Projects Agency) in the U.S.
"This is what we're missing on the industrial side, the breakthrough technology thinking has not been there in the NRC for a long time," he said.
However, the amount of funding the CIC will have to disperse is limited, so the corporation will have to strategically target companies and sectors for the greatest impact, Asselin said. "If people start spreading that money over 20 sectors and over all the regions of Canada, which is traditionally done, then you will see minimal impact."
Wolfe said he likes that the CIC will create a strategy team with a "technology foresight function," with ongoing in-house analysis on Canadian research strengths, as well as domestic and international technology trends.
That should help the CIC anticipate where the greatest commercial potential lies, Wolfe concluded, addressing the perennial problem that "Canada is great at funding technologies that never go anywhere."
Creation and retention of IP a priority
The CIC also will conduct an assessment of the potential to create, commercialize, and retain intangible assets, such as intellectual property, in Canada as part of project evaluations.
Currently, Canadian companies that have developed innovative technologies, IP and other intangibles are frequently bought by foreign entities after those companies have scaled up. This deters companies from staying in Canada and growing into "unicorns", which can anchor smaller companies and nurture local and regional innovation ecosystems.
According to the blueprint, the CIC will counter this trend, by delivering an appropriate mix of funding mechanisms and repayment requirements, minimizing the export of IP generated by CIC-funded projects. Not only will a company that takes CIC funding be required to create intangible assets, said Breznitz, the corporation also will fine a company if it moves its CIC-funded IP and other intangibles (such as the skills and expertise of its workforce) out of Canada.
The Council of Canadian Innovators welcomes the CIC blueprint's emphasis on the importance of IP and other intangible assets, said Bergen. However, he added, "to go from words to outcomes, the leadership team will need to have a deep and sophisticated knowledge of freedom-to-operate issues, and how to successfully navigate IP issues within modern global value chains."
David Watters, president and CEO of Global Advantage Consulting Group and a former assistant deputy minister at Finance Canada and Industry Canada, remains unconvinced the CIC is the best solution to Canada's poor innovation and productivity performance.
The central challenge the federal government faces in supporting business innovation is the "stunning fragmentation" of programs providing services to business, "with overlap, duplication, confusion, and little or no collaboration in program delivery — and no common performance metrics," Watters said in an e-mail to Research Money.
He added that it would be difficult to see how separating IRAP from the NRC, and creating a new Crown corporation entirely outside the public service and its extensive range of programming, will solve the problem of federal fragmentation.
A better solution, Watters suggested, would have been to make the private sector-led Economy Strategy Tables permanent, and integrate federal spending, tax, procurement, regulation, and trade and skills policies around a "Net-Zero Industrial Strategy" for each major sector of the Canadian economy.
"Foundational" programs missing from CIC's blueprint
Dr. Elicia Maine, PhD, professor of innovation and entrepreneurship at Simon Fraser University, said building on the success of NRC-IRAP is a good idea, as is emulating programs from successful national innovation systems like those in Finland and Israel.
However, she said she is concerned the CIC's blueprint does not include foundational programs delivered by these international best practice agencies, which start from supporting and shaping innovation originating at universities, rather than starting with companies.
"Without adequate funding for such programs, and without innovation training support for STEM researchers, we will never close the invention-to-innovation gap in Canada," Maine said.
How the CIC is implemented will be critical to its success and Canada's overall innovation strategy, said Monique Leroux, chair of the Industry Strategy Council of Canada, chair of the board of Investment Quebec, and chair of the Quebec government's Economic and Innovation Council.
"This will require a high level of collaboration between the new CIC and the rest of the innovation ecosystem and ISED. Alignment to a common vision and framework of departments and ministers will also be critical, including regional development agencies, BDC (Business Development Corporation) and EDC (Economic Development Corporation)," said Leroux, senior advisor at investment management firm Fiera Capital.
In order prepare for the CIC's launch by recruiting senior management and planning programs and services, the new agency has already been set up temporarily as a subsidiary of the Canada Development Investment Corporation. The aim is to make the CIC fully operational as its own corporation this year.
"The best time to establish an agency like this would have been seven years ago, but the second-best time is right now," Bergen said. "Canadian innovators are navigating a challenging economic environment, and a fully operational innovation partner empowered by the government to support domestic growth could be meaningful, if done properly."
R$