Climate and biodiversity challenges: Q&A with Canada's Ambassador for Climate Change
Mark Lowey
December 14, 2022
The federal government appointed Catherine Stewart as Canada's Ambassador for Climate Change in August 2022, for a term of up to three years.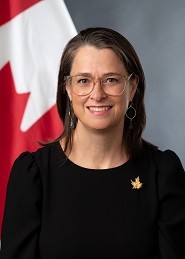 Stewart, who previously served as Canada's chief negotiator on climate change, advises both the Minister of Environment and Climate Change and the Minister of Foreign Affairs on how Canada can best continue advancing its climate change priorities on the world stage.
She has more than eight years of international experience in environment and climate change, including most recently as assistant deputy minister of Environment and Climate Change Canada's International Affairs Branch.
Stewart took part in the United Nations COP27 climate change conference in Egypt in November, and is participating in the COP15 global biodiversity conference in Montreal, which runs to December 19.
She agreed to a Q&A via email with Research Money, to discuss Canada's contributions at both COP15 and COP27.
What do you think were Canada's most significant contributions at COP27? What kind of role did we play in the breakthrough agreement to provide "loss and damage" funding to vulnerable countries hit hard by climate disasters?
At COP27, Canada and nearly 200 other countries reached agreement on the next step forward for climate ambition under the Paris Agreement. Canada also announced several new initiatives to advance greater global ambition on climate change, including on methane emissions and new work on the Prime Minister's global carbon pricing challenge. A full summary of outcomes, including on negotiations, is available online.
Canada was an early advocate for the need for COP27 to make progress on the issue of loss and damage, and to include it on the formal agenda. Canada rallied together with developed and developing nations to establish new funding arrangements for assisting developing countries that are particularly vulnerable to the adverse effects of climate change, including to establish a fund for responding to loss and damage. Further work will be undertaken to elaborate these funding arrangements over the coming year.
Canada didn't support a proposal from more than 80 countries to phase out the use of all fossil fuels. What was the rationale behind taking this position?
Canada recognizes the importance of a transition for the fossil fuel sector and is taking action at home and abroad – through the Emissions Reduction Plan; cap on oil and gas emissions; carbon pricing; legislated net-zero target; commitment to phase out inefficient fossil fuel subsidies and recent guidance that ends new international support for unabated fossil fuels as of end of this year; leadership on the Powering Past Coal Alliance; and the Global Carbon Pricing Challenge.
The Government of Canada is committed to being a leader in the global shift to a low-carbon economy by working with all levels of government, including Indigenous governments, alongside industry and other sectors, with the aim of building a sustainable future for all Canadians.
How important are new technologies and innovation to achieving Canada's target of net-zero emissions by 2050 and is there sufficient time for such technologies and innovation to make a significant impact in achieving that target?
The Government of Canada is laying the foundation for a resilient, sustainable and competitive economy by focusing on innovation, the creation of well-paying green jobs and investments in clean technology. Cleantech offers significant benefits to Canadians by helping us meet our climate goals and protect our planet for future generations, while driving economic prosperity and employing more than 210,000 people in 2020.
Budget 2022 provides significant new funding and measures directed at green economic growth that will help industry remain competitive in the growing net-zero carbon economy, create middle-class jobs, and build a clean future for all Canadians.
The Government of Canada is committed to working with industry — including the cement and concrete sector, for example — to find ways to grow Canada's leadership in clean technologies, reduce our environmental impacts and safeguard Canada's clean-growth future.
In partnership with the Cement Association of Canada, the Government of Canada released the Roadmap to Net-Zero Carbon Concrete to provide Canadian industry with technologies, tools and policies needed to achieve net-zero carbon concrete by 2050. Fulfilling the objectives of the roadmap could result in the cumulative reduction of more than 15 million tonnes of greenhouse gas emissions by 2030, and then ongoing reductions of more than 4 million tonnes annually.
What are your near-term priorities as Canada's Ambassador for Climate Change — which areas need the most urgent work?
The mandate for Canada's Ambassador for Climate Change is multifaceted and available here.
The Alberta government has passed the Alberta Sovereignty Within a United Canada Act. Premier Danielle Smith has said publicly she's prepared to use the legislation to fight Ottawa's attempt to cap oil and gas sector emissions or reduce fertilizer use to cut nitrogen emissions. What are your thoughts about this legislation and how it may affect efforts to combat climate change?
The Ambassador of Climate Change office is not in position to comment on this question.
What do you see as Canada's priorities at the UN Biodiversity Conference, COP15, Dec. 7 to 19 in Montreal? Does Canada support the proposed framework for global conservation efforts, including targets for setting aside land and territorial waters to protect nature?
The Government of Canada's priority is to ensure COP15 is a success for nature. Canada has been working with the CBD (Convention on Biological Diversity) Secretariat and the Chinese presidency towards this goal. Canada will continue to advocate for international collaboration on an ambitious post-2020 Global Biodiversity Framework. More specifically Canada would like to see a post-2020 Global Biodiversity Framework that:
Aims to halt and reverse the loss of biodiversity by 2030 and achieve its full recovery by 2050.
Addresses the key direct drivers of global biodiversity loss, including land- and sea-use change, over-exploitation of nature, climate change, invasive alien species and pollution.
Sets a global target to conserve at least 30 per cent of the world's land and oceans by 2030.
Strengthens country implementation of the Convention on Biological Diversity through systems and stronger planning, reporting, and review systems that will clearly track our global progress and encourage countries to be accountable to commitments.
Seeks to address the twin crises of biodiversity loss and climate change.
About 330 businesses globally — including many in Canada — have asked governments to compel them to disclose how their operations impact biodiversity, because they say this would give them the clarity and information they need to meet targets. What is Canada's position on this issue?
Canada supports business-led biodiversity-positive practices that contribute to halting biodiversity loss. We see value in targeted focus on larger businesses that have the greatest impact on biodiversity, as well as capacity and infrastructure to produce and disclose meaningful actions and results. We also welcome industry-led, voluntary reporting systems as part of strengthening assurance systems and corporate governance.
COP15 was originally supposed to be held in Kunming, and the Chinese will lead the deliberations in Montreal and will set the agenda and the tone. Given the current geopolitical climate and the tensions between Canada and China, is Canada willing to work with China on biodiversity issues?
The issue here is not about international relationships with other countries, it's about our relationship with nature. Biodiversity loss knows no boundaries. It is a global crisis that needs urgent action now.
After a two-year postponement due to COVID, China was still unable to host this year, and so the Secretariat asked Canada to provide the venue — being the natural fallback because we host the Secretariat in Montreal. Canada stepped up, because we understand the urgency of mobilizing the world on this issue, and because we recognize the world needs to put the same focus and energy on nature loss that we're mobilizing on climate change.
R$