Canada needs to rethink net-zero policies to avoid looming energy gap
Yogi Schulz
May 17, 2023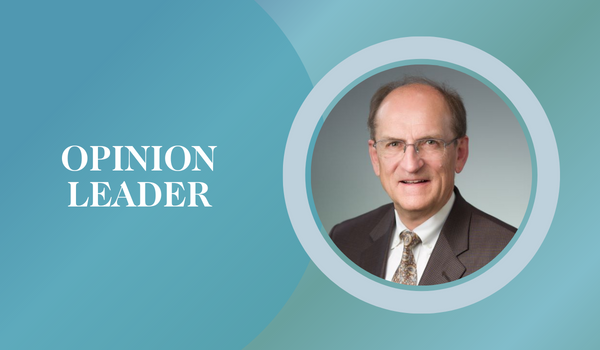 By Yogi Schulz

Yogi Schulz has more than 40 years of information technology experience in various industries; his specialties include IT strategy, web strategy and systems project management. His forthcoming book, co-authored by Jocelyn Schulz Lapointe, is "A Project Sponsor's Guide for Projects: Managing Risk and Improving Performance."
Brace for higher consumer energy prices and lower economic growth. The world is not investing enough in developing energy sources to keep up with the increase in primary energy consumption, especially in Third World nations. Concurrently, First World governments, including Canada's federal government, are strangling investment in energy projects.
These conflicting trends create an energy gap between demand and supply that will lead to a risk of energy insecurity. The energy gap is closer than we think, as the International Energy Agency EA predicts record global demand this year. To reduce the risk, governments must change their catastrophic net-zero policies.
Prime Minister Justin Trudeau and his cabinet seem oblivious to the risks of their determined net-zero policies, as articulated by various industry pundits. For example, Trudeau has said there's no business case for Canadian east coast LNG when there is. Natural Resources Minister Jonathan Wilkinson backtracked on the widely panned "just transition" phrase.
The beneficiaries of the energy gap will be:
OPEC+ members by increasing their revenue due to their collective pricing power.
Autocrats who will use energy insecurity to undermine democracy and tighten their political grip.
Canada and other nations can immediately narrow this energy gap by acknowledging natural gas's critical role in the energy transition.
Hopefully, governments won't wait until long angry lines form at gasoline stations, or rolling electricity blackouts annoy consumers and disrupt businesses before taking action. Energy prices affect votes but can also escalate to street riots and starvation. Canadians are not immune from social and economic disruption.
Various environmentalists have lulled us into believing the energy transition will be easy, fast and cheap. None of that is true. It's about as likely as the Toronto Maple Leafs winning this year's Stanley Cup.
The energy transition will be disruptive, slow and expensive. Our federal and provincial governments need to re-examine their net-zero policies because they are choking investment and, perversely, adding to emissions in developing countries.
Steps needed to close the energy gap
Canada's environmental, social, and governance (ESG) leadership is valued by consumers. By impeding investment nationally, Canada forces emerging nations to buy energy from authoritarian regimes or build coal-fired power plants spewing out filthy emissions at unprecedented rates.
Instead of contributing to the misery in the world, Canada should:
Reduce permitting costs and elapsed time for energy development projects, to minimize investor risk.
Eliminate government interference in energy markets that adds to investor risk and public debt.
Overcome our irrational fear of nuclear energy generation, when it's safer than the alternatives.
Encourage more energy conservation because there's plenty of opportunity to reduce consumption.
Transition requires 4X increase in wind and solar energy
How can the world avoid the looming energy gap and achieve net-zero GHG emissions by 2050? The energy transition from fossil fuels to renewables requires quadrupling global wind and solar generation capacity in less than 10 years, as illustrated by the chart below (Source: Brookfield).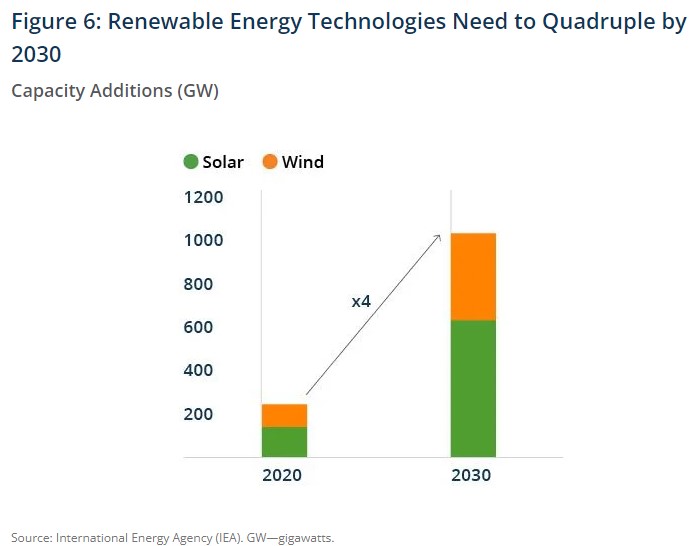 This daunting capacity increase requires an investment in the trillions of dollars that is not evident. Global investment in clean energy, after staying mostly flat since before 2017, has grown since then, according to the International Energy Agency. However, this modest investment growth comes nowhere near meeting the quadrupling of capacity required to achieve net zero. Similarly, fossil fuel energy infrastructure investment has declined over the past five years.
You would think that the proponents of more clean energy investment to accelerate the energy transition would be active investors in all kinds of clean energy projects. Why don't we observe this occurring?
We need to lower investor risk to achieve this steep investment increase. We can achieve this ambitious goal by taking the actions listed above.
Without a political course change, the impediments will likely continue. They reduce investment and slow construction, increasing the risk of energy insecurity.
Avoiding the risk of energy insecurity
All nations can avoid the looming risk of energy insecurity by being more realistic about the energy transition timeline. We can:
Reduce hurdles for approvals of energy development projects, including projects that aren't advancing through the Canada Energy Regulator's hearing process.
Transition various industries to low-carbon technologies as they mature.
Encourage households to embrace practical and realistic lifestyle changes, such as doing modest home upgrades to reduce energy consumption and occasionally using public transit and a bicycle.
Discourage governments from offering massive, counter-productive subsidies on the consumption side in a futile effort to accelerate the energy transition, and pay more attention to ESG performance of energy supply.
Canada is uniquely positioned to reduce the risk of energy insecurity by supplying more world-leading ESG-energy to other nations. Can we abandon our self-inflicted impediments?
R$