Tackling textile waste
Leah Geller
May 10, 2023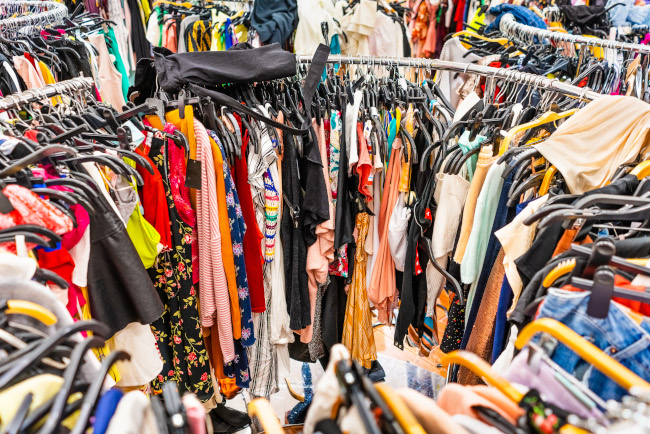 A recent study showed that Ontarians generate 500 million kilograms of textile waste a year, much of which is in like-new condition.
Conducted by Seneca Polytechnic's School of Fashion and the University of Waterloo, it showed that 65 percent of textile waste was reusable, and another 21 percent of it could be recycled. The team analyzed close to 11,000 items of textile waste, collected from landfills in 10 Ontario municipalities.
The high cost of fast fashion
Globally, the fashion industry is now responsible for close to 10 percent of the world's greenhouse gas emissions and as much as 20 percent of the world's wastewater. The United Nations Environment Programme estimated the equivalent of one garbage truck of textiles is landfilled or burned every second.
Natural textiles such as cotton and wool biodegrade in landfills, producing carbon dioxide and methane emissions. Synthetic materials, such as polyester and acrylic, which are made from plastic, do not biodegrade, staying in landfills forever.
Kelly Drennan is the Founding Executive Director of Fashion Takes Action (FTA), a Canadian non-profit advancing sustainability in fashion. She explains how the fast fashion industry and online purchasing is driving the growth of textile waste.
"We're buying 60 percent more clothes than just 20 years ago, but keep them half as long. For example, the average fast fashion item is worn only seven times. Online returns are also a major contributor to textile waste. Often, the value of the returned item of clothing is lower than the cost of re-stocking it, so companies dispose of these returned items into the landfill."
Getting producers to pay
Unfortunately, Canada lacks a textile recycling infrastructure, so about half a million tonnes of clothing materials still end up in our landfills.
A 2019 Deloitte study showed that textiles account for seven per cent of all plastics in Canadian landfills, making up the third-largest category of plastic waste after packaging and automotive. Meanwhile, textile waste coming from Canada's industrial, commercial and institutional sectors is typically shipped to the United States to be landfilled or incinerated.
Although residential textile waste is managed in Canada by the municipalities, it's the provinces that handle textile waste legislation.
"We need extended producer responsibility (EPR), similar to what we already have for plastics and packaging, that is, the blue bin program," she explains. "Legislation should require clothing producers to pay a fee per garment, which could be lowered based on eco-incentives such as percentage of recycled content. Those fees would then help pay for recycling, including collection and sorting. "
Turning old clothes into a hamper
According to Drennan, the federal government's role is to fund the kind of research, innovation and infrastructure that can help improve the re-use and recycling of textile waste.
"Mechanical textile recycling has been around for many years, but it usually results in downcycled products like shoddy or insulation," explains Drennan. "These products have low value, and it is why many second-hand clothing sorters choose to export these items overseas. Innovators can help by using shredded materials in higher-value products, like the laundry we recently developed."
With the support of Environment and Climate Change Canada (ECCC), FTA recently led a pilot project taking post-consumer textile waste and turning it into this everyday item. They collected polyester garments, such as unwanted activewear, via partnerships with retailers such as SportChek and Goodwill. They removed contaminants such as zippers and buttons, and shredded the material. Combined with recycled PET from plastic bottles and a small amount of virgin polyester, the material was turned into a laundry hamper, which is now on sale at select Canadian Tire stores.
"It's also possible to spin a yarn from shredded material or use chemical recycling to produce yarns that can be woven into clothing," Drennan adds. "However, these processes are still in their infancy, and both innovation and investment have to happen so that this can be scaled."
Creating kids' clothes from scrap
Lindsay Lorusso, who worked in waste management for 15 years, saw that there was no effective way to deal with the scrap fabric her clients wanted hauled away. So, in 2016, she teamed up with her twin sister, Alexandra, to found Nudnik, using proprietary upcycling technology to turn pre-consumer textile scraps into kids' clothes.
Lorusso was recently selected as one of 50 Changemakers by the Globe and Mail's Report on Business for her innovative approach to dealing with textile waste. Her company recently partnered with an overseas garment factory that produces nine million garments and about 300 tonnes of scraps per month, and is working to fine-tune their process to turn the factory's cutting waste into Nudnik gear.
Educating young people
Drennan believes we also need to do a better job of educating the public on what to do with their unwanted textile waste. "The mixed messages are confusing. Textile recycling should be easy and accessible for everyone."
For example, in Ottawa, residents can contact a Take it Back! member, such as Salvation Army or Value Village, which will accept clothing and other textiles for reuse, recycling or proper disposal. However, few residents realize they can donate damaged or stained clothing.
To educate about fashion and its impact, the FTA has created a series of free videos for young people, and has developed a series of workshops for schools called My Clothes, My World. "We teach students how to keep our clothes for as long as possible through reduce, reuse, repair, repurpose, rental, resale and recycle, and challenges them to lead the community through activities such as a clothing swap, closet audits, movie nights and more."
R$