New advanced research agency high on federal innovation minister's lengthy to do list
Mark Lowey
January 12, 2022
Innovation, Science and Industry Minister François-Philippe Champagne starts the year with a long list of challenging tasks, including establishing a new advanced research projects agency.
Champagne also has been asked to launch a Canadian critical minerals strategy and a national quantum R&D strategy, and create a global centre for excellence to detect and eliminate global-warming methane gas emissions.
Those are just some of the more than 30 assignments Champagne received in Prime Minister Justin Trudeau's mandate letter to the minister.
The Liberals, as part of their 2021 election platform, committed to establishing a "Canada Advanced Research Projects Agency (CARPA) as a public-private bridge for research that helps develop and maintain Canadian-led technology and capabilities in high-impact areas."
CARPA would be modelled on the Defense Advanced Research Projects Agency (DARPA) in the U.S., which has helped pioneer several iconic technologies, including GPS and the internet.
New report outlines building blocks for CARPA
In a new Public Policy Forum (PPF) report released in December, Robert Asselin, senior vice-president of policy at the Business Council of Canada, set out an institutional and policy blueprint for the future CARPA.
Asselin co-authored the report with Sean Speer, the PPF Scotiabank Fellow in Strategic Competitiveness at the Public Policy Forum.
The design, governance, operational and programmatic details for CARPA are crucial, the authors said. "If the government fails to get these basic building blocks right, there is a high probability that the new agency will underdeliver as the source of new breakthroughs or act as a bridge to their market-based application," they wrote in the report.
CARPA must be a stand-alone agency, modelled on the governance of the Canada Infrastructure Bank, and not reside within any government department or agency, the authors recommended.
The new agency must be headed by a respected leader, probably a scientist, with a strong private-sector background and perhaps experience working in or with government and academia, they said. Program managers should also be free from bureaucratic and political interference, they said.
CARPA's mission must be to catalyze radical innovation in limited sectoral priorities, such as energy and clean technology or agriculture and agri-food, rather than incremental innovation at the firm level or among academic researchers, the authors said.
The new agency should be dedicated to "use-driven" research, with funding oriented around pursuing technological solutions to major problems, such as breakthrough "wild card" technologies needed to achieve Canada's goal of net-zero emissions by 2050, they said.
CARPA should not directly perform research, but rather coordinate and execute priority R&D programs mainly through contracts with industry, universities, non-profit organizations and federal laboratories, the authors recommended.
Like the U.S.'s DARPA, CARPA also will need "end-to-end" support and capacity — including dedicated federal and provincial procurement and access to private capital — to help high-risk, high-reward ideas and technologies transition through the innovation process to market commercialization, the authors said.
Without this capacity, Asselin said there's a risk that "CARPA essentially becomes just another innovation-related granting agency within the pre-existing federal panoply."
[caption id="attachment_26739" align="alignnone" width="575"]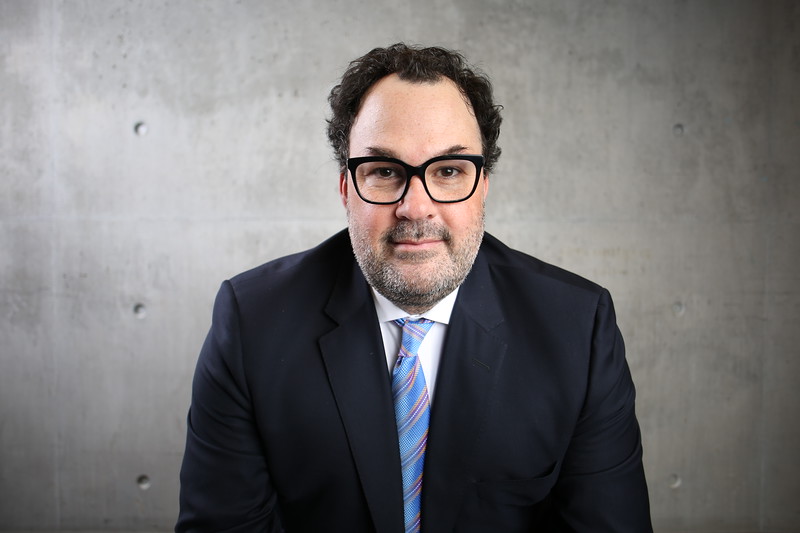 Robert Asselin is one of the co-authors of a report outlining how to build a successful CARPA. (Dave Chan/Public Policy Forum)[/caption]
Canada's innovation ecosystem missing key elements for CARPA's success
CARPA should focus on real challenges and where Canadian companies have the talent and intellectual property to solve problems in ways that can be commercialized globally, Benjamin Bergen, executive director of the Council of Canadian Innovators (CCI), said in an email to Research Money.
"For meaningful and lasting economic benefits, we need to see an agency that develops projects which leverage Canadian capacity and runs challenges to develop new technologies and innovations with market opportunity beyond a government research project," Bergen said.
Dr. Camille Boulet, PhD, senior partner at Ottawa-based Global Advantage Consulting Group, said it still isn't clear what problems or solutions CARPA is intended to address.
The National Research Council already has mission-based, innovation challenge programs and the Department of National Defence (DND) has the Innovation for Defence Excellence and Security (IDEaS) program, Boulet said.
IDEaS was patterned as much as possible on the U.S. DARPA program and is one of the most significant investments in external innovation ever by DND, with $1.68 billion spent over 20 years, he said.
Boulet noted that DARPA's success is the result of an unparalleled private sector R&D ecosystem, coupled with government procurement, that supports the agency and its innovations. "A Canadian advanced research projects agency will face serious challenges if government isn't able to create markets or acquire its own innovations," he said.
However, the key elements of DARPA's success, which include autonomy, risk tolerance, exceptional technical leadership, rigorous oversight and performance measures, are largely absent from Canada's innovation ecosystem, Boulet noted. "The Canadian track record in launching successful, mission-oriented programs is not stellar."
Critical minerals strategy includes battery innovation-industrial ecosystem
Budget 2021 allocated $9.6 million to establish a Critical Battery Minerals Centre of Excellence at Natural Resources Canada, which has identified a list of 31 critical minerals, and $36.8 million for R&D focused on critical minerals in the mining and refining sectors.
Trudeau's mandate letter to Champagne asks him to work with Natural Resources Minister Jonathan Wilkinson to launch a "Canadian Critical Minerals Strategy," including developing a sustainable battery innovation and industrial ecosystem in Canada.
The PM also asks Champagne to use all tools, including the Investment Canada Act, "to ensure the protection and development of our critical minerals."
Brendan Marshall, vice-president of economic and northern affairs at the Mining Association of Canada (MAC), said Canada's proposed strategy builds off critical mineral agreements with the U.S. and the European Union, among others, and the rising importance of supply chain and economic security internationally.
The strategy should identify how Canada intends to prioritize and allocate its limited resources to ensure maximum gain, both domestically and through deepened cooperative partnerships with likeminded allies, Marshall said.
"Our allies in Europe and the U.S. need reliable [critical mineral] supplies from countries with strong ESG credentials, and few countries can meet this need better than we can," he said.
MAC, as the national organization representing the mining industry, is well placed to participate in developing the new strategy, he added.
To ensure differing views are included, the government also should consider input from a diverse range of stakeholders, such as those focused on climate change action, supply chain-security, and auto manufacturing, Marshall said.
Ian London, executive director of the Canadian Critical Minerals & Materials Alliance, said the new strategy must be seen as a call for definitive actions, led by industry and enabled by governments at all levels, with a "mission critical" framework.
"Not only do we need to launch the strategy but deliver on it. Fully recognizing it will take some years, across several administrations, and is not without risks," he said.
Quantum R&D needs national strategy, public resources
Budget 2021 committed $360 million over seven years, starting in 2021, to launch a national quantum strategy, to be coordinated by Innovation, Science and Economic Development Canada (ISED).
The government, which has released a "Developing a National Quantum Strategy" engagement paper, said the strategy will amplify Canada's significant strength in quantum research and grow quantum-ready technologies, companies and talent.
The Institute for Quantum Science and Technology (QST) at the University of Calgary participated with other stakeholders in ISED roundtables this past summer, and has helped forge the national strategy, said Dr. Barry Sanders, PhD, a professor of physics and astronomy and director of QST.
"Quantum is a high-risk, high-gain endeavour that needs a national strategy and public resources to catapult Canada into being one of the world's top quantum research-and-development regions," Sanders said in an email to Research Money.
A successful national strategy will enhance Canada's national research strengths and ameliorate research gaps, provide training, upskilling and reskilling to establish a quantum workforce, build international collaborations and enable quantum industries, including new ventures, to succeed, he said.
UCalgary, the City of Alberta, and the Alberta government, through the "Quantum City" initiative and Quantum Alberta network, are committed to positioning Calgary and the region in a pivotal place for making Canada successful with quantum science and technology, Sanders said.
The Institute for Quantum Computing (IQC) at the University of Waterloo also welcomed the government reaffirming its commitment to the national quantum strategy.
"By leveraging our research strengths in quantum at IQC and universities across the country, we will grow our quantum-ready technologies, companies and talents to transform industries and drive the economy," said Siobhan Stables, managing director of IQC.
[caption id="attachment_26737" align="alignnone" width="575"]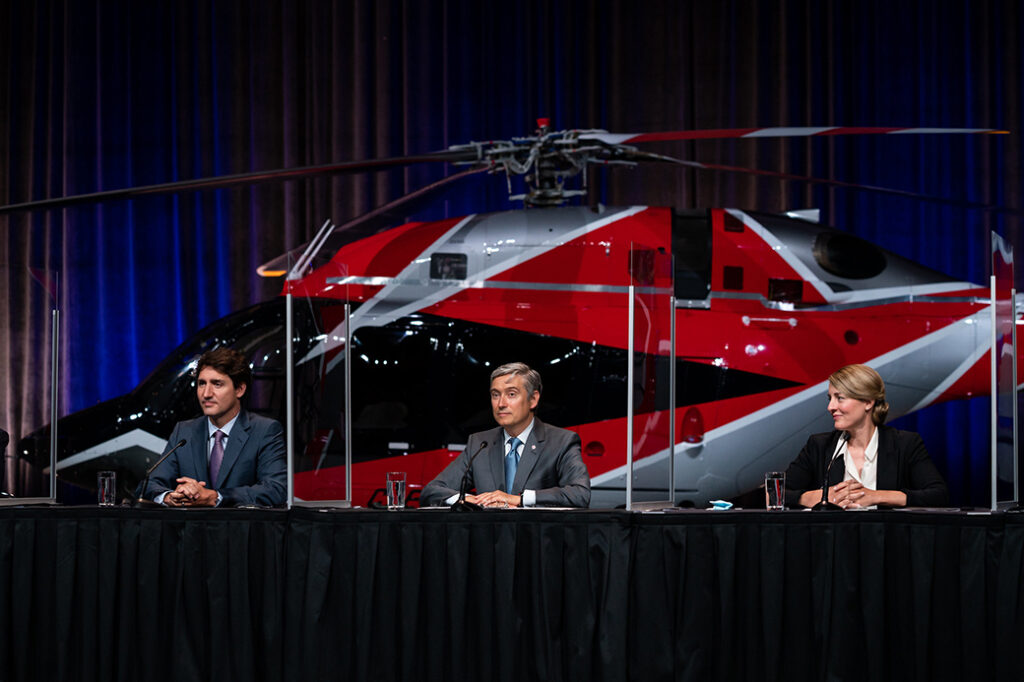 Prime Minister Justin Trudeau, Minister of Innovation, Science and Industry François-Philippe Champagne and then Minister of Economic Development Mélanie Joly announce new supports for the aerospace sector in Montreal, Que., in July 2021. (Adam Scotti/PMO)[/caption]
Natural Resources Canada overhauling federal program to cut methane emissions 
In their election platform, the Liberals said they will require oil and gas companies to reduce emissions of global-warming methane gas by at least 75 percent below 2012 levels by 2030.
Trudeau's mandate letter to Champagne asks him to work with Wilkinson to deliver on the Liberals' election campaign promise to make the National Research Council a global centre for excellence on methane detection and elimination.
However, Wilkinson is first overhauling the government's $675-million Emissions Reduction Fund Onshore Program, which the environment commissioner has criticized.
The program offers loans of up to $50 million to help oil and gas producers meet or surpass federal regulations for methane emissions reductions. The first two funding rounds loaned $134 million to 26 companies, for 81 projects expected to cut 4.6 million tonnes of greenhouse gas emissions.
But in an audit released last November, Jerry DeMarco, Commissioner of the Environment and Sustainable Development, criticized the program as poorly designed and said there is no evidence the projects would not have gone ahead without the program.
Natural Resources Canada said on its website that the third round (scheduled to open later this month) is being revised, including narrowing the scope of funded projects, setting limits on how much projects can cost per tonne of emissions they reduce, and providing greater transparency.
Meantime, two Calgary-based organizations say they'll continue working to reduce methane emissions in the oil and gas industry.
Petroleum Technology Alliance Canada (PTAC) and the Clean Resource Innovation Network (CRIN)  are confident the many stakeholders of the oil and gas innovation ecosystem "will continue to achieve significant reductions of methane emissions from the oil and gas sector," Soheil Asgarpour, president and CEO of PTAC and steering committee member of CRIN, said in a joint statement by both organizations.
Using a collaborative, cross-sector model, PTAC has generated enough technology capacity to reduce the oil and gas sector's methane emissions by more than 45 percent, according to a PTAC report.
"These technologies are not only currently reducing methane emission in Canada but also are helping global reduction of methane emissions," Asgarpour said on PTAC's website.
CRIN, established with $100-million from the federal Strategic Innovation Fund, has "methane monitoring, quantification and abatement" as one of its seven technology theme areas.
In March 2021, CRIN launched three large-scale technology competitions with a total value of $80 million, including one with a focus area that includes methane mitigation and offers a maximum $10 million to any project. An announcement on awards and contracting is expected in early 2022.
R$