Canada's research funding system lacks focus to pursue moonshot-style projects: report
Mark Lowey
November 8, 2023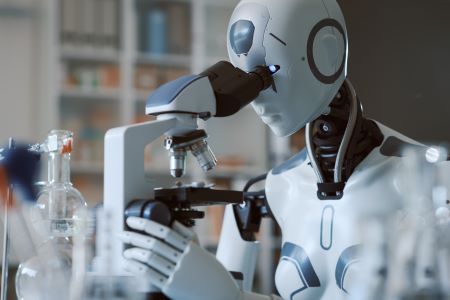 Canada's research funding system lacks the focus to pursue moonshot-style projects, including limitations on federal funding agreements that create barriers to ambitious moonshot research programs, witnesses told a House of Commons committee.
"Even our funding of industry research tends to be all across the board and not very directed," AI pioneer Yoshua Bengio, professor at Université de Montréal and founder and scientific director of Mila-Quebec AI Institute, told the Standing Committee on Science and Research.
When it comes to national research strategies, the $360-million National Quantum Strategy uses existing programs to distribute funds very evenly but also randomly in response to small grant applications from groups across the country, said Alexandre Blais, scientific director in quantum computer architectures at the Institut Quantique at the University of Sherbrooke.
"This approach will yield some nice research, but it will be uncoordinated, and that will prevent it from being a moonshot program," Blais told the committee.
Despite highlighting several Canadian research funding programs in a positive light, there was an overarching sense among witnesses that Canada's overall level of investment in research was falling behind in comparison to the international community, both generally and in specific fields, including fusion, health and climate change, the House of Commons committee said in its report, "Pursuing a Canadian Moonshot Program."
Witnesses also told the committee that federal funding programs, as defined for example by the tri-councils – the Canadian Institutes of Health Research, Natural Sciences and Engineering Research Council, and the Social Sciences and Humanities Research Council – tend to limit the types of research that transcend specific fields.
Barriers to ambitious moonshot research programs created by funding programs include grant requirements that limit capital investments and industry partnerships, and a lack of flexibility in terms of allocation of funds (e.g., number of students and researchers, equipment needed, infrastructure development and knowledge mobilization), witnesses said.
In addition, short funding cycles are a challenge for pursuing ambitious, long-term research goals, as researchers are required to commit substantial time to grant writing and face uncertainty as to the sustainability of funding.
Witnesses told the committee that research to support moonshot goals need to include both fundamental, curiosity-driven research, and applied research and development.
Several witnesses identified international funding models for moonshot programs, including in the U.S.: the Defense Advanced Research Projects Agency; the Biomedical Advanced Research and Development Authority; the National Institutes of Health's Brain Research Through Advancing Innovative Neurotechnologies Initiative; and the National Cancer Institute's Cancer Moonshot.
As for possible Canadian moonshots, witnesses and briefs identified artificial intelligence as a central technology for supporting ambitious research goals. Health was frequently identified as the focus for a potential moonshot project, including in brain research and cancer.
Many witnesses also highlighted climate change as an important topic for targeted research and development.
However, British economist Sir Nicholas Stern has argued that the world should be spending about two per cent of GDP to tackle the climate emergency, Seth Klein, a Vancouver-based public policy researcher and founding director of the British Columbia office of the Canadian Centre for Policy Alternatives, told the committee. In the Canadian context that would be about $56 billion a year.
"If you were to tally up our spending now on climate infrastructure and climate action, generously it clocks in at about $12 billion a year. We're not a little off. We're off by a fourfold to fivefold order of magnitude," Klein said.
Government's response doesn't include commitment to act on recommendations
The Standing Committee on Science and Research's report made 15 recommendations, several of them aimed at strengthening the $4-billion federal research funding system, including boosting research funding, and encouraging a more national strategy for research programs and goals. The committee's recommendations included that the Government of Canada:
review, with the potential to increase, its investments in fundamental research through the budgets of the three granting councils – the Social Sciences and Humanities Research Council, the Natural Sciences and Engineering Research Council of Canada, and the Canadian Institutes of Health Research.
review and revise research funding requirements to ensure projects can effectively leverage capital investment and industry.
increase the number of scholarships and fellowships to graduate students and postdoctoral researchers and increase their value by 25 per cent and index it to the consumer price index.
in collaboration with the provinces and territories, develop mechanisms for greater collaboration between provincial, territorial and national research programs and goals.
Many of the committee's recommendations on the federal research funding system echo those in the report by Ottawa's Advisory Panel on the Federal Research Support System, known as the "Bouchard report," chaired by Dr. Frédéric Bouchard, PhD, professor and dean of the Faculty of Arts and Sciences at the Université de Montréal.
That report noted that "fragmentation in the overall system hinders various types of research, basically interdisciplinary, mission-driven, and international collaborations."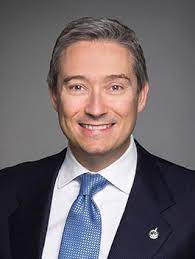 François-Philippe Champagne (photo at right), minister of Innovation, Science and Industry of Canada, provided a 19-page response to the Standing Committee on Science and Research's report.
In his response, Champagne detailed numerous existing government programs, initiatives and policies that support fundamental and applied research, commercialization and research infrastructure.
The government supports the committee's report's broader conclusions and the underling intent of the recommendations, he said. However, he made no commitment that Ottawa will act on any of the committee's recommendations.
"Government contributes to realizing moonshot goals by supporting the full breadth of the continuum from fundamental science and research to commercialization and business innovation: aligning programs, strategies, and policies with a long-term focus; investing in talent and skills to fuel innovation; and promoting meaningful collaboration with provinces and territories, as well as partners and stakeholders," Champagne said.
He pointed to the New Frontiers in Research's Transformation funding stream, designed to support large-scale, Canadian-led, interdisciplinary research projects that address a major challenge with the potential to realize real and lasting change. Awarded projects receive between $2 million to $4 million per year for six years.
The Canada First Research Excellence Fund (CFREF) is a tri-agency program which provides large-scale and long-term funding, with no prescribed limit on the size of the awards, Champagne said. The 2022 funding competition awarded a total of $1.4 billion to 11 research initiatives across Canada, with the average grant size being $127 million.
CFREF supports initiatives aligned with the government's science, technology and innovation priorities. "These priorities, called challenge areas, are ambitious and provide a long-term focus comparable to moonshot goals," Champagne said. CFREF's challenge areas are Healthy Canadians, Innovative and Resilient Communities, Sustainable Food Systems, a Clean and Resource Rich Canada, and a Technologically Advanced Canada.
The Canada Excellence Research Chairs, another tri-agency program, provides long-term funding, including awards with values of either $8 million or $4 million over eight years to support world‑renowned researchers and their teams to establish ambitious research programs at Canadian universities, Champagne said.
He pointed to other government-supported initiatives with moonshot potential, including:
the Pan-Canadian AI strategy, whose second phase received more than $443 million in Budget 2021.
the National Quantum Strategy, which will receive $360 million over seven years.
a Pan-Canadian Genomics Strategy, which received nearly $400 million in Budget 2021.
Champagne noted that Canadian businesses don't invest in R&D at the same level as their global peers. "Despite Canada's history of producing ground-breaking ideas and inventions, the lack of support for business R&D has resulted in a reduced capacity to turn innovative ideas into new products and services."
The government, through the Innovation and Skills Plan, launched a series of initiatives to support business innovation at all stages along the innovation continuum, Champagne said.
The new Canada Innovation Corporation (CIC), with an initial operating budget of $2.6 billion over four years, starting in 2023-2024, will work towards maximizing business investment in R&D across the economy and in all regions of Canada to promote innovation-driven economic growth, he said.
The CIC will deliver a national platform of funding and advisory programs that will promote business investment in R&D, Champagne added. The new Crown corporation will also work to promote the ownership and retention of intangible assets in Canada, act as a centre of expertise on national and international industrial and technological trends, conduct ongoing program impact monitoring and evaluation, and will look to help catalyze and commercialize novel ideas and inventions from Canada's academic ecosystem.
Champagne noted that the government "is carefully considering" the recommendations made by the Bouchard report, including those on better coordination of research infrastructure, operating and research funding, and further enhancements of support for major research facilities over their life cycle.
"The Government has heard the calls from the research community to increase the value of scholarships and fellowships, and will continue to work with the granting agencies and the research community to explore ways to support the next generation of researchers and top talent," Champagne said.
R$