Supportive policies needed to boost serendipitous "cross-pollination" for innovative R&D
Guest Contributor
March 22, 2023
Supportive policies needed to boost serendipitous "cross-pollination" for innovative R&D
By John Ralston and Ryan Peters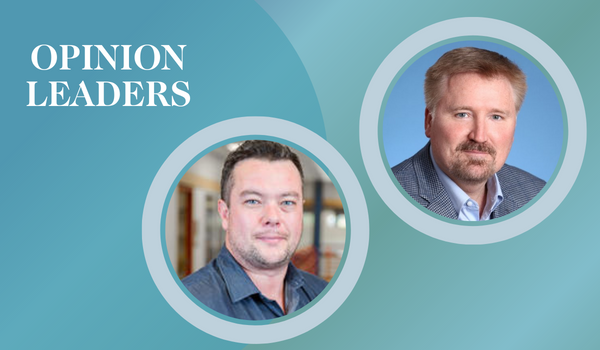 Dr. John Ralston (on right, above), PhD, is the CEO and co-founder of Neursantys. He is a pioneer in the integration of clinical grade wearable bioelectronic devices and advanced data analytics to reduce the cost of precision medicine and improve patient access to unobtrusive, continuous and remote healthcare management.
Dr. Ryan Peters (on left, above) PhD, is Chief Scientific Officer at Neursantys. He is an associate professor in the Faculty of Kinesiology and Human Performance Lab at the University of Calgary, and an emerging leader in human neuroscience research with an emphasis on next generation wearable technologies for neurostimulation and therapeutics.
Age-tech," "longevity", and "aging-in-place" are appearing with increasing frequency everywhere. We see these terms in medical research and biomedical engineering curricula, best-selling books, global conferences, business school classes, VC investment proposals, and government agencies.
All these terms reflect the recognition that older populations around the world account for a rapidly expanding share of both disposable wealth and healthcare costs.
Over the past decade, Canada, like every other major economy, has launched numerous studies, policy assessments and investment strategies, to draw a roadmap for better managing the financial and physical health of geriatric populations. The goal is that older people can live more actively, independently and productively for much longer.
Innovation plays a crucial role in achieving this goal. A topic that continues to attract lively debate is whether the seeds of innovation can actually be planted and nurtured by armies of public employees formulating innovation policies, strategies, and programs.
What if serendipitous "cross-pollination" actually plays a far more important role, especially in multidisciplinary innovation landscapes such as "age-tech?" If so, perhaps efforts should instead focus on establishing, protecting, and expanding those areas of the landscape where cross-pollinations are most likely to occur.
At Neursantys, our research is focused on the human balance system, the "sixth sense" that is key to enabling the astonishing feats of balance and mobility that humans are capable of.
When we look more closely at balance, we discover an extremely complex process that doesn't fully mature until we're well into our teens and begins to decline around age 40 — much earlier than previously recognized.
It is only in the past few years that a series of landmark studies, funded by the U.S. National Institutes of Health, revealed that 35 percent of people over 40 already suffer from age-related balance impairments. These problems limit their physical activity, increase risks of fall-related injuries, and make it increasingly difficult to continue living independently.
Based on those numbers, 70 million people in Canada and the U.S. alone experience age-related balance impairments. This results in an annual economic burden exceeding US$300 billion in lost productivity, reduced quality of life, assisted living costs, direct costs of falls, and associated acute care costs.
Age-related balance decline requires solutions
A primary cause of balance decline is age-related changes in the vestibular balance organs in the inner ear, changes which also have been linked to cognitive decline. The vestibular system has profound impact throughout our lives, from learning to walk to — for some of us — needing a mechanical walker.
Yet surprisingly few people ever encounter the term "vestibular," or are even aware that they're equipped with not just one but two sets of vestibular balance organs (one just inside each ear).
Vestibular medicine is a vastly under-served niche; fewer than 2,000 clinical specialists in Canada and the U.S. are equipped with the expertise and tools to thoroughly diagnose related impairments. And even when problems are diagnosed, there are no widely available solutions to restore lost vestibular function.
The closest thing is vestibular implants, but these are experimental devices being investigated for patients with severe damage or loss of their vestibular organs. They require high-risk surgeries warranted only for the small fraction of patients with severe vestibular pathologies. They will never be a widely available solution for normal, age-related balance decline.
Canada is home to both academic research and commercial startup activity in the area of vestibular research and balance restoration in aging populations.
Neursantys began as a cross-collaboration between a Canadian engineer in Silicon Valley, who had discovered how to diagnose vestibular decline with a simple wearable device, and an associate professor at the University of Calgary who's an emerging expert in applying very low-level electrical stimulation of the vestibular balance organs, to measure and restore lost balance function.
The pair met through a chance introduction by an Alberta Health Services innovation executive, and the subsequent cross-pollination was facilitated by a Mitacs program manager at the University of Calgary.
Less than three years later, despite the challenges of the COVID-19 pandemic, this collaboration has developed the first wearable "bioelectronic" medical device that, coupled with a six-week treatment protocol, can deliver diagnostic assessment and neuroplastic treatment of age-related balance decline in patients 55-90 years old.
Need to protect and grow opportunities for cross-pollination
Cross-pollination leading to innovation has been an important theme in funding our company's early-stage development activities.
In May 2022, Neursantys was awarded a Deep Space Healthcare Challenge grant from the Canadian Space Agency. The funding is to accelerate development and testing of the Neursantys device for dual-use applications treating balance impairments in patients living in remote and underserved communities in Canada, as well as astronauts serving on deep-space missions. Accelerated vestibular aging caused by exposure to microgravity presents a fundamental medical challenge for human activities in space.
Canada is in the vanguard of vestibular research and bioelectronic treatment. To ensure we maintain our lead, we recommend these policies and initiatives:
Promote greater corporate and private venture capital investments to establish and maintain environments that promote interdisciplinary events and other "meets," and to provide risk capital to the resulting cross-pollinated collaborations;
Couple tax credits for investments in health care innovations with metrics that quantify improvements in care quality, reductions in care delivery costs, and increases in quality-adjusted life-years;
Establish and expand collaborative specializations between medical schools and biomedical engineering programs in important and under-served areas such as bioelectronic medicine and vestibular therapeutics.
As is often the case, 95 percent of scientific breakthroughs can be attributed to serendipitous discovery and five percent to local, provincial, and federal innovation management strategy, policies and programs.
By rebalancing policy efforts toward the stewardship of innovation environments that nurture and reward cross-pollinated innovation, Canada can continue to be an international leader in this critical research and technology commercialization.
R$