Reducing range anxiety in B.C.
Monte Stewart
March 8, 2023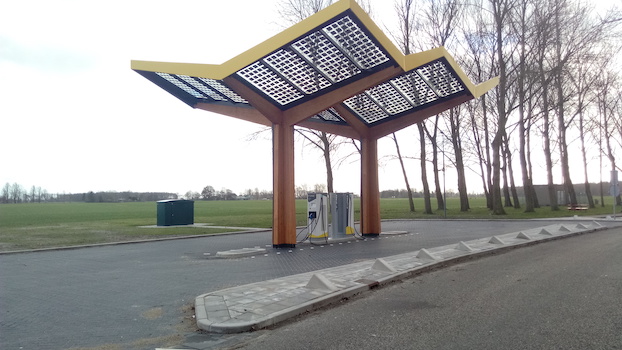 The federal government is investing about $19 million in charging stations in British Columbia to further electric-vehicle adoption across the province.
The investment will fund 2,400 charging stations, to be installed primarily in B.C.'s Lower Mainland.
"It significantly advances the availability of electric-vehicle infrastructure in the province," said Natural Resources Minister Jonathan Wilkinson, responding to a question from Research Money during a February 24 news conference discussing what the funding means to the EV ecosystem. "I mean, 2400 additional chargers is a lot. [The program] builds upon work that the Government of Canada has done and the province of British Columbia has done, but also private sector players have participated in doing.
"At the end of the day in British Columbia, it is almost — almost — the case that you can go anywhere in this province and find a charger now, to be able to actually fuel your electric vehicle. And, that is exactly what you need to do to see broad-based deployment of this technology. So this is a big step forward in that regard."
The B.C. investment is part of a wider $680-million federal investment designed to install thousands of EV chargers throughout Canada. The funds are being provided by Natural Resources Canada (NRCan) through cost-sharing agreements with eligible project developers.
In B.C., Ottawa is partnering with 26 organizations, said Wilkinson during the news conference, which was held at a charging station on Vancouver's Pacific National Exhibition grounds. While most stations will be built in Vancouver, Burnaby, Richmond, and Surrey, others will be located on Vancouver Island, in Victoria, Tofino, and Port Hardy, as well as interior mainland locales such as Kamloops and Manning Park.
Federal contributions to the B.C. charging stations, and others across Canada, are being provided by NRCan's Zero-Emission Vehicle Infrastructure Program (ZEVIP), which supports the deployment of charging and refuelling infrastructure, and the Electric Vehicle Infrastructure Demonstration Program, which supports demonstrations of next-generation and innovative EV charging and hydrogen refuelling infrastructure.
"ZEVIP is a $680-million initiative ending in 2027 with the objective of addressing the lack of charging and refuelling stations across Canada, one of the key barriers to [zero-emission vehicle] adoption, by increasing the availability of localized charging and hydrogen refuelling opportunities where Canadians live, work, and play," Wilkinson's press secretary Keean Nembhard told Research Money via email.
According to Wilkinson, different provinces are at different stages of EV-charging infrastructure development.
"I would say that the provinces that are farthest ahead are those that actually have come to the table at the provincial level, as well as the federal government," he told Research Money. "British Columbia is a leader. Quebec is a leader in that regard. There are other provinces where the development infrastructure is more nascent. But the funding that is available [in B.C.] from the Government of Canada is available in all provinces and territories. It requires partners to step up."
Wilkinson said the 2,400 B.C. charging stations will make it easier for drivers to get to where they need to go and reduce range anxiety, which has inhibited the deployment of EVs in recent years. (Range anxiety refers to a driver's fear of being stranded mid-route because of a drained battery.)
According to a backgrounder on the February 24 announcement, Ottawa provided $2 million to Burnaby-based firmTap & Go, which is developing quick-payment EV-charging infrastructure linked to users' utility accounts.
Meanwhile, the federal government also provided convenience store chain 7-Eleven Canada with two contributions of $49,000 each, for a pair of projects tied to NRCan's Electric Vehicle and Alternative Fuel Infrastructure Deployment Initiative, which supports demonstrations of next-generation and innovative EV charging and hydrogen refuelling infrastructure. The other 23 projects' funding recipients include electrical utility BC Hydro, Vancouver Airport Authority; the cities of Vancouver, Burnaby and Delta; the District of North Vancouver; several property development companies, including one owned by billionaire Jim Pattison; and Richmond-based EV infrastructure provider Foreseeson Technology.
Julien Gagnon, manager of EV supply equipment for Richmond, B.C.-based Foreseeson Technology, said NRCan's previous contributions have accelerated EV adoption in B.C., to the point where Vancouver is now the leading per-capita adopter of EV technology in North America.
"This has created a massive impact on our culture and society, with many major EV manufacturers — like Tesla and Rivian and Fisker — and others to take notice of the Vancouver and the British Columbia market," said Gagnon in a speech during the news conference.
Foreseeson is to receive about $1 million to provide 23 chargers at different locations in Metro Vancouver. Gagnon told Research Money its chargers will be installed in residential towers under development. He said the $19-million investment in B.C. will help condo developers meet demand for EV chargers.
"The demand is growing up, for condominium owners to have chargers in their building," said Gagnon. "So this is going to help a lot, with a lot of these owners being able to charge their vehicles, because right now some of them have to get out of their parking lot to go somewhere else — at work or in a public place — to charge a car, which is not very convenient."
The ZEVIP funds are being provided through cost-sharing agreements with eligible project developers. Organizations that partner with NRCan are required to provide 50 percent of the capital, while Ottawa provides the other 50 percent, Gagnon added.
Mike McNaney, vice-president of government relations for Vancouver International Airport, said it will use a $1.75-million investment from NRCan to install 74 additional EV charging outlets there over the next three years.
"This funding, combined with investments from the Province of British Columbia and our own funding, are a critical step forward in our roadmap to net zero [emissions] by 2030," he said.
Wilkinson added that similar partnerships will be implemented across the country through NRCan, as Ottawa ramps up its support for zero-emission vehicle infrastructure.
"Certainly, this is an important part of fighting climate change. It's an important part of moving this country forward," he said.
On February 17, NRCan announced that it is providing $53,000 to Oakville, Ont.-based Geotab to install 11 EV chargers in Oakville and nine in Kitchener, Ont.
According to Nembhard, Ottawa has already approved funding to install more than 33,178 chargers from coast to coast to coast, through funding from ZEVIP and the Electric Vehicle Alternative Fuels Infrastructure Deployment Initiative.
According to a published list of successful applicants, Tesla's Canadian subsidiary is among companies that have received ZEVIP funds for projects,. That company, which was not one of the 26 organizations tied to the February 24 announcement, has received about $800,000 to deliver 27 chargers already in operation.
R$