From mushrooms to machine learning — CIFAR drills the deepest strata of innovation
Tim Lougheed
January 11, 2023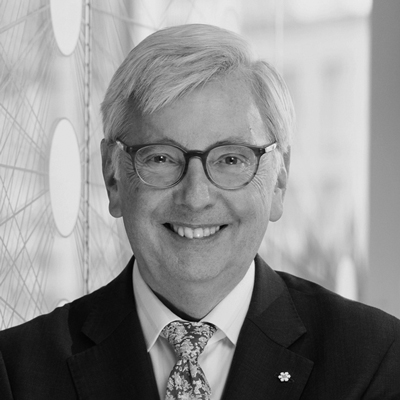 It now seems entirely appropriate that one of the original champions of the Canadian Institute for Advanced Research (CIFAR) was John Leyerle, who had a degree in engineering from the US Naval Academy, but spent his career at the University of Toronto in the Department of English. In the early 1980s, he and his colleagues identified the need for a home-grown body, which would assemble investigators from all over the world — and across the broad spectrum of academic disciplines — for the deepest of dives into science and technology, but always with an eye toward what the results might mean for society, culture, and people's everyday lives.
Flash forward four decades, and Toronto-based CIFAR now supports work by more than 400 individuals, in 22 countries, at some 130 institutions around the world.
"It is a group of people, brought together in a series of research networks, to challenge themselves in an interdisciplinary way, to ask the hardest questions that humanity and science have to face," said Stephen Toope, who became CIFAR's fifth President and CEO, near the end of 2022.
Those hard questions can lay the groundwork for significant innovations, he told Research Money, which is why CIFAR continues to push the limits of what we can understand. "And intriguingly, CIFAR's very first program was on AI and robotics, 40 years ago," he said.
By 2017, the depth of knowledge generated by that program made CIFAR the logical choice to lead the Pan-Canadian Artificial Intelligence Strategy, which is positioning the country as a major force in the development of this powerful technology, as well as new enterprises based on AI's capabilities.
"CIFAR has already shown that doing absolutely fundamental work can result in opportunity," said Toope. "We used to just assume that that happened naturally, and that there was nothing you had to do to try to foment that."
He regards the organization as deeply embedded in the elaborate ecosystem that gives rise to innovation, as highlighted by a program dedicated to examining the how equity and prosperity will be balanced in the future.
"That program is asking really fundamental questions around how we ensure that, as innovation is creating opportunities in society, it actually is creating opportunities for a wider spectrum of people, and not just the 0.01 percent of billionaires who do well."
And the path from fundamental research to opportunity definitely must be fomented, he observed, although there is no specific process for turning scientific discoveries and ideas into practical products.
"CIFAR is not going to commercialize anything," said Toope. "It has no capacity to do that, and no expertise. But others do."
Among those other are organizations like the National Research Council, whose members have told him they closely monitor CIFAR's progress for indications of where industrial research should be heading. With that role in mind, CIFAR is spending the first half of 2023 engaged in a strategic planning process to examine not just what is still working well, but also what may have changed.
"We'll touch base with a lot of our supporters, and partners, outside the organization," said Toope. "There's no doubt that the external dynamics have changed, over the last 40 years, for an organization like CIFAR."
By way of example, he noted that it is essential to continue looking for talent in all parts of the world, which requires exploring places where CIFAR is still making inroads. At the same time, there are growing calls for greater transparency and review of multi-national collaborations, which can be fraught with difficulty.
"You can't be naïve about the challenges you're going to face," he said, referring to problems that could range from the theft of intellectual property to outright threats to personal safety. "We cannot live in a world successfully where we pretend that none of that exists."
And while such outcomes may be very much the exception, Toope insisted that they do happen and they must always be considered. He recounted his own experience as Vice-Chancellor of the University of Cambridge, where he oversaw the drafting of operating principles for any kind of international research liaison. This formal statement would then prompt academics to weigh both the potential and risks associated with these ambitious undertakings, as well as their own motivation for taking part.
Nor does caution spell the end for these interactions, Toope said. He pointed to the optimistic conclusion of the recent COP15 biodiversity summit in Montreal, where Canada and China led the way, despite serious tensions that have wracked relations between the two nations over the past few years.
"It is a good example, where, despite everything, the Canadian and Chinese government collaborated very closely to try to ensure the success of a really important international initiative. That is a model we have to hold onto, and remember that it is possible to do that, as long as you do it with eyes open."
Meanwhile, CIFAR continues to press forward with its mandate to mine the most fundamental layers of scientific knowledge, in such unlikely areas as the role of fungi, which are poorly understood, but could be tremendously important to human health.
"The next pandemic, many people think, is likely to be a fungal pandemic," he said. "So how do you look at the great opportunity, but also protect yourself against enormous societal risks arising from these things that are everywhere, and we don't think about them most of the time."
CIFAR also plans to add new programs this year, all with the same emphasis on matters demanding its signature blend of specific, well defined inquiry and broad, overarching perspectives.
"It's an exciting time for CIFAR. We are becoming even more interdisciplinary. Even in what looks to be core science programs, you really need the social sciences to be part of those programs. You just can't deal with them if you don't have really thoughtful contributions from the humanities and social sciences."
R$