AI helping — but not replacing — immigration decision-makers
Monte Stewart
June 7, 2023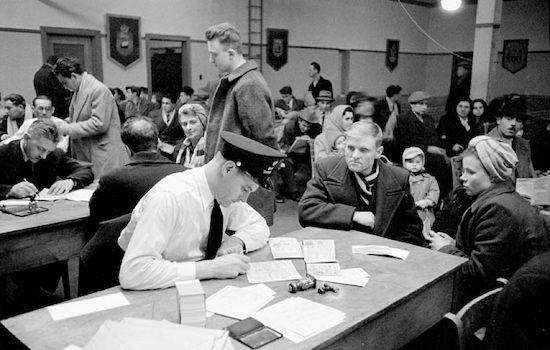 Artificial intelligence is increasing immigrant acceptance and speeding up the application process — but humans still make the final decision, says Canada's Minister of Immigration, Refugees and Citizenship.
Advanced analytics, increased use of technology, and streamlined processing have enabled Ottawa to approve 98 percent of permanent residency applications, Sean Fraser told a news conference in Vancouver on May 26.
"Our future is going to continue to be shaped by immigration in the years ahead," he said, citing the need to attract highly skilled workers from all over the world. "So we need to seize the opportunity to attract the people that we need to grow our economy, to strengthen our diversity and to support our sense of community."
Families are stronger when they are together, he insisted, and Ottawa wants to help them unite here.
"That means enabling newcomers to bring their families to Canada and enabling those family members to get jobs here at a pace that doesn't pose so much of a barrier to those families who are seeking to call Canada home," said Fraser. "If we're going to count on newcomers for our economic well-being, it's my belief that we owe it to them to provide a pathway to be with their families, so they can enjoy life with the ones that they care about most."
Fraser made the comments as he announced changes to the temporary resident visa (TRV) application process for families of recent immigrants, as they reunite in Canada — a move that could affect prospective employees who are being brought in from other countries. Under new rules, recent immigrants' spouses and children can apply for a temporary resident visa as they wait for family-class permanent residency applications that have already been filed and are waiting to be processed. AI systems can quickly identify TRV applicants who are already part of a family-class permanent residency application in the system.
"It is not possible for an AI system or an advanced analytics system to make a final determination on a person's admissibility or eligibility," he said. "This [ultimate approval] is something that we need to continue to have our officers do to protect the integrity of the decision-making process. But by leveraging the tools, we can speed up the timelines and put the officers in a position to more quickly and more effectively render that final decision with an extremely high approval rate."
Fraser said the new approach to processing spouses and children will lead to TRV applications being processed within 30 days.
"This means that family members will be able to travel to Canada more quickly and be with their loved ones sooner than was previously the case," said Fraser.
Currently, he said, far too many spouses and children are denied TRVs — based on how likely they are to return to their home countries – even though more than 90 per cent are approved for permanent residency after their applications are processed.
"I'm also happy to report that our modernization efforts have enabled us to process new permanent residency applications within the 12-months standard that we enjoyed before the pandemic," said Fraser adding the government has been meeting that level since July 2022.
He suggested that the AI, increased use of technology, and revised TRV policy will help Canada better compete for talent in a global marketplace.
"When newcomers know that they can bring their families with them when they come work in Canada, it helps them choose Canada in the first place," said Fraser. "Make no mistake. Ambitious family reunification policy is also ambitious economic policy, and that helps to create a competitive landscape for our country in the global race for talent — which has only become more competitive over the last number of years. So we're making a number of improvements to our family reunification process in Canada."
Vancouver Centre MP Hedy Fry said the technological tools and revised TRV policy will impact much of the city and British Columbia's Lower Mainland, while building a base for economic growth and jobs.
According to Fraser, Ottawa will issue open work permits to permanent residency visa applicants' spouses and children, regardless of whether they applied under the family-class program for overseas applicants or as spouses or common-law partners.
"This initiative builds from a pilot program that was previously available under the in-Canada spousal program only and is now being extended to applicants who make their applications from outside of Canada," he said.
And, he added, immigrants whose open work permits are due to expire this year will be able to stay longer.
Under a new program that was due to launch this week, holders of expiring open work permits will be able to extend their permits an additional 18 months, using a free "facilitated process" like one recently used to extend post-graduate work permit holders.
"And, sticking with today's theme of keeping families together, it includes spouses and dependents of most workers who are here temporarily, spouses of international students, and permanent resident applicants and their spouses and dependents who are waiting for their permanent residency to be finalized," said Fraser.
According to a representative of Immigration, Refugees and Citizenship Canada who spoke with Research Money, the department uses advanced analytics to help process applications for temporary resident visas, visitor records, and in-Canada family-class permanent resident applications covering spouses and common-law partners. The ministry Web site describes the system as storing only personal information required to process citizenship and immigration clients, including names, gender, date of birth, country of birth, contact information, and education and employment information.
While AI can move that information efficiently between offices and individuals reviewing any given case, the spokesperson reiterated that decision-making is still completed by people, not machines.
R$