Research and education devoted to 21st century Canadian industries
The Cégep de Thetford's national leadership in college applied research and innovation is very much related to the dynamism of its two research centres, both recognized as College Centres for Technology Transfer (CCTTs) and Technology Access Centres (TACs). COALIA and Kemitek offer high-end expertise in five sectors: mineral technologies, plastics processing, advanced materials, green chemistry, and chemical process scale-up. Their successes and world-class infrastructure are attractive incentives to numerous local and national businesses as well as international clients. Furthermore, the Cégep de Thetford is a partner of choice for the training of highly qualified personnel, whether through college programs, continuing education, tailor-made training, work-based learning, or internships.
COALIA: Material Science, Processing Expertise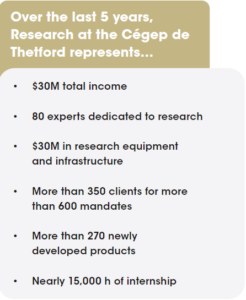 For more than 35 years, COALIA has made every effort to encourage economic development in Quebec and Canada through applied research, technical assistance as well as training and information activities. With sustainable development in mind, the Centre promotes the development and transfer of technological solutions. COALIA is unique in its work in two distinct business sectors: mineral technologies and plastics processing as well as hosting the NSERC Industrial Research Chair in Advanced Materials.
"COALIA is a proactive player in innovation, carrying out numerous applied research and technical market-driven projects each year. Thanks to its high-level expertise and its state-of-the-art infrastructure, COALIA is recognized as an essential scientific and technical centre of expertise," affirms Annie Rochette, Executive Manager for COALIA. 
For Dr. Pascal Vuillaume, Director of Research in the Plastics Sector, the Centre provides one of the most important service offers for testing, characterizing and transforming plastics in Canada. "COALIA realizes a large number of applied research projects, particularly in thermoplastics, materials for 3D printing, bioplastics and recycled polymers. In collaboration with industrial partners, we develop new functional materials, including organic-inorganic materials and nanomaterials. New reinforcing fillers for polymers are prepared to impart specific properties to final products, always keeping in mind their commercialization."
"Regarding the mineral sector, COALIA works mainly in the characterization and treatment of mineral substances for extractive metallurgy and mineralurgy. COALIA proposes a geometallurgical approach to its partners; integrating all the components of a mining project while minimizing risks by offering predictive tools that promote responsible exploitation of resources," says Caroline Chouinard, Director of Research in the Mineral Sector.
Kemitek: Green chemistry and chemical process scale-up
Founded in 2002, Kemitek is the college's research centre on green chemistry and chemical process scale-up whose installations are located in the former Asbestos Corporation headquarters, which is highly symbolic of the economic diversification the region has undergone since the end of the asbestos mining operations in the early 2000's.
The research team assists businesses in developing new safer chemical products or processes. To do so, the centre has developed expertise in synthetic organic chemistry, chemical engineering, renewable materials, analytical chemistry, and product formulation. 
Kemitek's massive infrastructure of over 36 000 sq. ft comprises organic and analytical chemistry labs as well as a pilot plant. The pilot installation used to scale-up chemical processes is noteworthy, being one of the very few public-accessible organic chemistry pilot facilities in the country. "Kemitek's plant is available to any company walking down the path to commercialization, without having them spend prohibitive financial assets for expensive infrastructure having a short lifespan in the context of an emerging venture," mentioned David Berthiaume, Executive Director for Kemitek.
The centre has served multiple companies in achieving successful commercialization in the past, ranging from new process yielding high-value extracts of small berries (Nutra Canada), to a new renewable waterproofing solution (Soprema Canada).
Overall, the applied research services offered by the Cégep de Thetford have greatly improved the innovation capacity of local and national businesses. We look forward to continuing that mission and developing it into new research expertise that will help propel our partners and community even further into this new century!