Less than three years into the job, the Chief Science Advisor of Canada has emerged as a key player in bringing unbiased scientific advice to a federal government struggling to contain the worst pandemic in recent history.
Dr. Mona Nemer appeared before the House of Commons Standing Committee on Health May 19 to highlight what her office has been doing since the novel coronavirus arrived in Canada. One of her major roles has been coordinating scientific advice from interdisciplinary experts from the public, private and academic sectors.
"Starting in February 2020, I set up a number of expert groups and task forces. These experts are keeping us abreast of ongoing clinical and scientific challenges, and best practices for pandemic response in Canada," said Nemer, who oversees a small secretariat housed within the department of Innovation, Science and Economic Development.
"I have also been involved in science coordination efforts within the federal government with respect to medical countermeasures. I have worked with the broader science and research community in Canada to enhance coordination efforts."
The CSA's initiatives have included the establishment of CanCOVID, a pan-Canadian research platform to optimize collaboration during the COVID-19 crisis. More than 2,000 researchers are registered on the platform.
Nemer filed a brief with the standing committee detailing other initiatives her office has undertaken to ensure the federal government has timely and comprehensive information on the evolving nature of the pandemic.
The graphic below provides an overview of the various scientific advisory committees her office has established in response to COVID-19: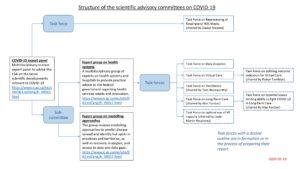 Source: Submission to the Standing Committee on Health Briefing from the Chief Science Advisor of Canada on the response to the COVID-19 pandemic, May 19, 2020