Nova Scotia Research shifts strategy to support projects that address provincial needs
Debbie Lawes
November 4, 2020
Nova Scotia's main research funder is shifting its approach to supporting research with a new strategy that will favour projects that support four provincial priorities.
This is Research Nova Scotia's first strategy since the not-for-profit corporation launched 18 months ago with a mandate to enhance the province's research capacity to solve pressing challenges. Prior to the strategy, provincial funding was funnelled through two organizations: the Nova Scotia Health Research Foundation and the Nova Scotia Research and Innovation Trust, with the latter tasked with providing matching funding for projects that received federal funding from the Canada Foundation for Innovation. Research Nova Scotia is pursuing a much broader mandate.
"There was real interest in integrating and providing support for research across the entire spectrum," says Stefan Leslie, CEO, Research Nova Scotia. "There is lots of research capacity in Nova Scotia in lots of different areas and by limiting it to the Trust it did cut off a significant portion of areas that were of relevance to the province."
As part of this new "public research agenda", Leslie says the agency will adopt a mission-oriented approach to funding, supporting and coordinating research projects, training and infrastructure in the province, with a focus on four priority areas: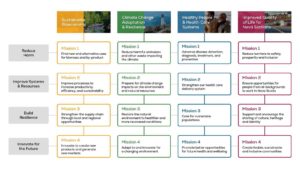 The areas were selected based on provincial needs as well as existing and emerging research and innovation capacity within academia, government and the private sector.
"Given limited funding, preference will be given to projects that best fulfill the missions," the strategy states. Research Nova Scotia has an annual budget of about $32 million.
Adds Leslie: "These are the areas where we believe that this province can make an important contribution to the lives of people here in Nova Scotia and also beyond, and where the research community has the capacity to respond. It's the appropriate mix between research capacity and research need."
Developed over the past year and a half in consultation with provincial research institutions, government departments, stakeholders and partners, the strategy takes an ecosystem approach to ensure that research activities align with the needs of groups that will put that research into practice.
"We're not just sitting back to see what research opportunities there are, we're actively looking for partners in other provinces, at the federal level, with the private sector to identify where there's that overlap of mandate or overlap of interest so we can jointly support research that's of benefit to all parties," he notes.
COVID-19 provides test case for rapid response research
Research Nova Scotia was able to pilot test its new mission-oriented framework earlier this year when the COVID-19 pandemic began. It moved quickly to form the COVID-19 Health Research Coalition with seven other members, pooling funds to support 40 research projects that inform health system decisions, facilitate vaccine development, identify novel treatments, develop devices, and influence social response to the pandemic. Research Nova Scotia also partnered with the Canadian Institutes of Health Research and other partners to provide rapid response funding to nine research teams.
"COVID-19 provides a good case study of how this process works in action and how we are able to respond very quickly to needs that come up," says Leslie. "We were able to take those urgent social requirements and galvanize the research community in support of achieving those objectives."
R$