News Briefs
Semi-finalists chosen for flagship Clean Growth Program
Beef council gets funds to sustain production
The Beef Cattle Research Council (BCRC) will receive investments of up to $21.6 million to enhance the sustainability of Canadian beef and forage production, increase beef exports and ensure continuous global supply of Canadian beef. Of this amount, $14 million will come from the federal government's Canadian Agricultural Partnership, AgriScience Clusters program and the balance of $7.6 million will be shouldered by BCRC. The amount will be used to fund the Sustainable Beef and Forage Science Cluster. The BCRC is a division of the Canadian Cattlemen's Association (CCA). Previously, the Beef cluster received funding under two earlier policy arrangements that included research on genetics, feed efficiency, and forages and animal health. These two initial frameworks have been credited for helping create a more competitive yet consistently profitable beef sector. The sector contributed $9 billion in farm cash receipts in 2017. Beef and cattle exports reached almost $2.41 billion in the same year. In terms of headcount, 11.52 million cattle and calves on roughly 74,000 farms and ranches in Canada were recorded in 2017.
Egg farmers get federal funds for imaging technology
The Egg Farmers of Ontario will receive $844,000 for a project that can help find ways to cut production wastage and address animal welfare issues. Supported by the Canadian Agricultural Adaptation Program (CAAP), the first-of-a-kind research project is expected to encourage the adoption of imaging technology that enables eggs to be scanned non-invasively to identify gender and determine fertility soon after they are laid. The technology is touted to increase the output and efficiencies of hatcheries while promoting humane approaches in egg farming. In the long-run, project proponents envision tapping new technology and processes that will have multiplier effects on the entire egg supply chain at the domestic and global levels. The critical role of the Canadian egg industry could be inferred from its $1 billion annual contribution to the economy and its employment of 17,000 workers. CAAP is a federal funding initiative to help farmers remain competitive with pilot projects that address industry challenges.
Wine industry from coast to coast gets federal funds
New SIF competition open for data projects in health, biosciences
No STI minister in Ontario cabinet
Canada fights back US steel tariffs with innovation assistance
Feds support Quebec fund, local enterprise under CED
The federal government has announced $1.4 million in financial assistance to Les Cuisines Gaspésiennes Ltd and the Fonds d'innovation et de développement économique local de La Matanie (FIDEL) to help the Quebec regional economy remain competitive. Les Cuisines Gaspésiennes of Matane, QC will receive $1.2 million in repayable contributions to upgrade its production capacity through automation and computerization. FIDEL, an industry fund for local entrepreneurs, is getting $200,000 in a non-repayable contribution to be able to conduct a feasibility study for the implementation of a gas pipeline network in Matane's industrial park. The assistance is made possible through Canada Economic Development for Quebec Regions (CED).
Canada invests $12M to participate in CERN research
Bombardier commits $6M to fund R&D hub and heritage site
Montreal's Bombardier has committed several million dollars for an aerospace R&D hub in the GTA, which brings together academia and industry with support from the three levels of government. The multi-year funds are earmarked not only for R&D in the aerospace hub but are also intended to support the operations of the Downsview Aerospace Innovation and Research Consortium (DAIR) and preserve the aerospace heritage on the site. An initial investment of $1.5 million for five years has been set to fund the Aeromaterials Research Centre to be established at the DAIR Innovation Centre. Another $1 million over five years starting 2019 will help create the two Aerospace Research Centres at Ryerson Univ and the Univ of Toronto. Centennial College will also benefit from this support through its Landing Gear Research project and its training program for the next three years in the college's Downsview campus. Then, there is $900,000 over the next three years to support the operations of the DAIR Innovation Centre. As part of this commitment and as a founding member of the DAIR consortium, Bombardier will also be actively involved in the board of directors. As its contribution to preserve the site for its historical importance to the development of the aerospace industry, the manufacturer has committed $2.5 million to refurbish the "Moth Building," which will be the cornerstone of the DAIR Innovation Centre.
Interac Lab opens in Communitech
People
Dr L. John Leggat
Dominic Barton
The Univ of Waterloo has appointed international business adviser Dominic Barton as its 11th chancellor. He will succeed Tom Jenkins, a noted technology executive who served as chancellor from 2015. Barton steps down on July 1 as global managing partner of McKinsey & Company after completing three terms of three years. Barton is chair of the the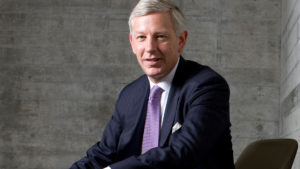 federal government's Advisory Council on Economic Growth, which has submitted three sets of reports to help guide the government on several focus areas of growth, namely:  capital investment and infrastructure; innovation; talent and labour markets; and competitive markets. As chancellor, Barton is the ceremonial head of the university, attending events such as convocation ceremonies, and its leading ambassador. He received a BA Honours in economics from the University of British Columbia and later studied at Brasenose College at the Univ of Oxford as a Rhodes scholar.
Denise Amyot
Dr Michael J. Strong
Dr Michael J. Strong has been appointed the new president of the Canadian Institutes of Health Research (CIHR) effective October 1. The appointment concludes a period of nearly one and a half years since the departure of Dr Alain Beaudet, during which time the granting council has headed by Dr Roderick McInnes. McInnes has been serving in an acting capacity and will stay on until the end of June. He will then be replaced by Michel Perron, executive VP of CIHR who will serve until the fall and Strong's arrival. Strong is internationally recognized for his work in the neurodegenerative disease amyotrophic lateral sclerosis (ALS), also known as Lou Gehrig's disease. Since 2010, Strong has been dean of Western's Schulich School of Medicine & Dentistry and holds the Arthur J. Hudson Chair in ALS Research. In 2009, he was awarded the status of Distinguished University Professor. His research focuses on understanding the cellular biology of ALS.