By Jeffrey Crelinsten, Publisher & CEO, RE$EARCH MONEY
It was a sold out crowd at the 16th annual RE$EARCH MONEY conference in Ottawa this week. Over 170 people from government, industry, finance, academia and the not-for profit sector gathered to examine federal Budget 2017 and the Innovation Agenda – renamed the Innovation & Skills Plan in the budget. The gathering included 11 young entrepreneurs who were offered free registrations, thanks to IBM Canada, our Young Entrepreneur Partner.
First impressions are often telling, so here are a few thoughts in the immediate afterglow of a successful event.
There was almost universal praise for the government's courage in identifying priority areas for support rather than trying to please everyone by "spreading the peanut butter thinly" across sectors and regions. Some worry, though, that the government won't deliver due to pressure from constituents that are not among those selected for priority support. There was general approval for the government's approach and I, for one, am hoping the government will stay the course.
While the government announced new money for specific areas such as AI, agriculture and clean tech, much of the money in Budget 2017 had already been announced in Budget 2016, with the current budget adding more detail on how it will be administered, rather than adding additional new money. Some criticized the government for "sleight of hand", but others accepted this approach as a work in progress.
The announcement of new institutions such as Innovation Canada, Impact Canada and the Strategic Innovation Fund highlights the government's intention to reorganize how it supports innovation. Some worry that it will be a slow process that will delay the flow of money. Others believe that the new structures hold considerable promise for more effective innovation support from the federal government. There was considerable interest in knowing how the government will implement these changes and who will lead the effort.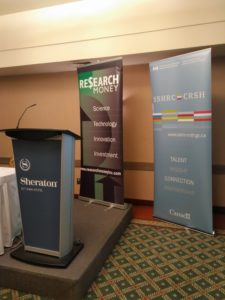 There was a lot of discussion about clusters and super clusters. Some clarification of what the government is looking for emerged: they must be industry-led, identify existing strengths such as anchor firms, supply chains, research capability and international connections, exports and export potential. The addition of the word "super" reflects that these clusters will be few in number and very large. They will also aspire to global leadership and excellence. The goal is to identify niche areas of existing strength (not nascent capability) that can generate global trade and move the needle on Canada's economic growth.
On a personal note, the language of the budget particularly struck me. Gone are the appeals to the private sector to do more R&D. Instead, there is a focus on innovation for business success, growing and scaling successful companies and supporting the necessary skills development, talent attraction and retention strategies, and innovation strategies required to generate more wealth, health and good quality of life through innovation and value creation for the world.
The devil is always in the details, so some participants are skeptical. Most participants, while positive, are taking a wait and see attitude. What was clear from the past two days of discussion and debate is that people are excited about the possibilities and eager to work with government to move this country forward.
For those who missed the conference, we will be posting the conference videos for purchase in the next couple of weeks. For now, Valerie Fox's and Robert Cooper's keynote presentations can be found here. David Watters' slides will be available in the next week.
Conference proceedings are in preparation and will be available on the R$ website later this year.