Building with CCNB-INNOV… Relationships that go a Long Way!
Josh Wheeler
November 23, 2020
The Collège communautaire du Nouveau-Brunswick (CCNB), through its Provincial School of Fisheries, has always had a special relationship with the regional shipbuilding industry. CCNB-INNOV, the applied research and development arm of CCNB, has therefore adapted its range of services to better meet their unique needs and expectations. 
[caption id="attachment_22044" align="alignright" width="300"]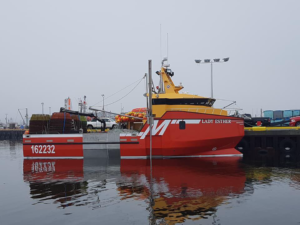 Atlantic Boat Builders midshore crabbing vessel[/caption]
Pairing a former instructor to an advanced materials researcher, outfitted with modern analytical equipment, gives its budding Advanced Materials Division the capacity to offer applied research, technical assistance, and knowledge transfer to such companies across Atlantic Canada. 
Skills transfer activities make it possible to offer specialized on-the-job training adapted to the context of each company, while facilitating the integration of new technologies and manufacturing processes. 
The fishing boats built by Atlantic Boat Builders Inc. are renowned for their manoeuvrability, stability, and reduced fuel consumption. The CCNB-INNOV team contributed to the improvement of the advanced material processes that led to the successful launch of the Lady Esther, among others. "We were able to benefit from the expertise of a former instructor from CCNB to optimize our manufacturing processes and integrate the infusion process for certain components" according to Jean-Pierre Robichaud, Executive Director.  
[caption id="attachment_22046" align="alignright" width="300"]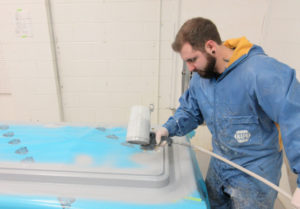 Profibre employee[/caption]
R.P. Pro-Fibre Ltd. has developed and now sells light, composite-based rust-resistant cabin doors and hatches for boats. The owner, Mr. René Paulin, emphasizes the professionalism and commitment of the CCNB-INNOV team: "It is a pleasure to work with highly qualified professionals who are passionate about new technologies and innovation. The relationships maintained between the teams and the skills passed on have enabled us to grow together, benefiting our clients and our communities." 
[caption id="attachment_22045" align="alignleft" width="204"]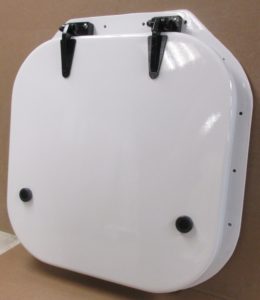 Profibre boat hatch[/caption]
The use of cutting-edge production methods offers the possibility of developing products with exceptional physical properties and mechanical performances. With these eco-responsible manufacturing methods, the quantities of resins used are optimized, thus minimizing losses. 
By facilitating the integration of socially acceptable, environmentally responsible, and economically viable solutions, the CCNB-INNOV team contributes to the sustainable development of businesses and communities.